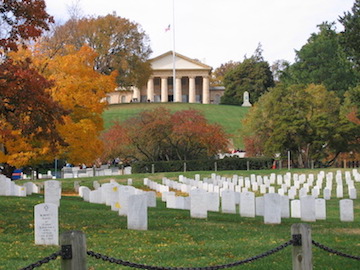 When I see them, I often save articles that describe good people doing good things. Here are two of my favorites from 2016.
At rest with honor. Andrew Moore died last year the way he had lived most of his life . . . alone.
When Moore was young, he was placed in an orphanage, a home for children without parents. When he was a teenager, he ran away.
He had no family. He never married. And when he died, he was living alone in a small apartment in an apartment building in Washington, D.C., for people with little money.
Moore might have been alone, but he was not lonely. He made friends easily and knew most of the people who lived and worked in the apartment building. They say he made their lives brighter.
Because Moore had no money, no family, and no will (instructions for after you die), he would have been buried by the city of Washington and forgotten. But two of his friends from the apartment building had a different idea: they wanted him buried in Arlington National Cemetery.
Arlington National Cemetery is a place to honor men and women who have served (worked for) the U.S., especially those who had served in the military. Many veterans (people who have fought in a war) are buried there. So are important leaders, like John F. Kennedy, scientists, astronauts, and important American musicians.
Moore's friends knew he had served in the U.S. Navy during World War II and was qualified (met the requirements) to be buried at Arlington. They completed all the paperwork that was required and collected money from others who lived in the apartment building to help with the expenses. It was difficult and took a lot of time.
Finally, on a cold, windy Friday morning last spring, Moore was buried in Arlington National Cemetery in a full military ceremony, along with more than 14,000 others who, like him, had served their country.
Her father's heart. Ten years ago, Jeni Stepien's father was shot and killed during a robbery. While he lay in the hospital, dying, his family decided to donate (give) his organs (heart and other body parts) to an organization that finds people who need them and makes it possible for the families to stay in touch with each other after the transplant (moving an organ from one person to another).
Stepien's father's heart went to another father, Arthur Thomas, who had congestive heart failure (when the heart stops working properly). He would have died in just a few days without the new heart. After the transplant, Stepien's and Thomas's families became friends through phone calls, letters, and emails.
When Stepien planned her wedding last year, she wanted to remember her father in a special way. After talking to her family, she invited Thomas to walk her from the back of the church to the front, like her father would have done. Thomas agreed to do it.
At the wedding, Stepien and Thomas walked to the front of the church, then stopped and looked at each other. Thomas took her hand and briefly held it over his – her father's – heart so she could feel the heartbeat. Her father was there.
Happy New Year!
~ Warren Ediger – ESL tutor/coach and creator of the Successful English website.
This post was adapted from articles in the New York Times and Washington Post.
Photo of Arlington National Cemetery courtesy of Wikipedia Commons.