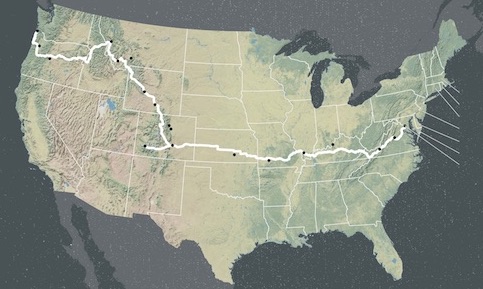 People who have tried it say it's therapeutic. What they mean is that doing it makes them feel calm and relaxed. It helps them feel better about themselves and their lives.
Forty years ago, a little-known organization called Adventure Cycling began promoting (encouraging) what they call "self-contained camping tours." Bicycle riders, sometimes alone, sometimes with a small group of other riders, ride 40-70 miles (65-115 km) a day for a week, two weeks, or even several months. They carry everything they need on their bicycles. If they need more food and water, they stop along the road to buy it. When it's time to eat, they prepare their own food. At night they camp out, sleep outside in tents and sleeping bags. When they're in a scenic (impressive or beautiful) area, they stop to enjoy it.
One rider, on the Adventure Cycling website, said that her body and mind felt younger after riding 700 miles over 14 days, camping near beaches, going to sleep hearing crashing (loud noise of) waves, forgetting her work password and even forgetting what day of the week it was. She said the experience helped her prioritize (decide what's important) the rest of her life.
Tyler Metcalfe was a photographer for National Geographic magazine. Earlier this year, he quit his job to ride Adventure Cycling's most iconic (best known) ride, the TransAmerica Trail, from Washington, D.C. to the Pacific Ocean in the state of Washington (see map), by himself. That's 4228 miles (6804 km), across 11 states, through 3 national parks, surrounded by  "diverse landscape (different scenery) that reflects (shows) the heart of America."
He finished recently, 109 days after he started. He wrote that he "decided to cross the country by bike so that I could be captivated (have his attention filled) by every moment along the way." Sometimes that meant cooking dinner with someone he met on the trail, sometimes it meant riding through a heavy rainstorm, or sleeping outside, "under the stars," for several nights in a row. "I wanted to feel it all," he wrote, and the experience "gave me an appreciation for the small details of every day."
Some people, who only thought about the hard work of riding so far for so many days, said he was crazy. But Metcalfe said that traveling like this made it possible for him to slow down and experience the world at his own speed. It gave him "an opportunity to get lost, to spend time talking to strangers, and to fully embrace (welcome) the unexpected."
Ready for some 2-wheeled therapy?
You can read Tyler Metcalfe's articles on the National Geographic website.
~ Warren Ediger – ESL coach/tutor and creator of the Successful English website.
Map from National Geographic.