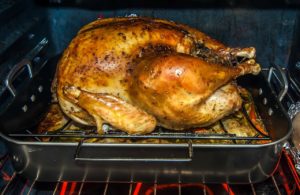 Welcome! We're so glad you could join us for Thanksgiving. Come in out of the cold. It's dipped below (fallen under) 70° F (20° C) outside. Brrrrrrrrr!
Jeff has been slaving away (working very hard) in the kitchen all day baking a big turkey (see photo). It's free range (raised in a natural environment that allows movement) and pasture-raised (with some of its food coming from the natural environment). Its feed (food for farm animals) has always been non-GMO (not genetically modified; without their genetic material changed to make it better), of course! It has received no  antibiotics (medicine to stop the growth of bacteria (germs)) or hormones (a substance usually used to make animals bigger).
Jeff also asked the turkey if it would mind (dislike) being cooked and eaten, and it said it didn't mind as long as Jeff took a selfie (photo of yourself, taken by you) with it and remembered to put up the photo on the turkey's Facebook page.
Jeff has also made mashed potatoes, stuffing (bread and seasonings cooked in a turkey or out of it), and cranberry sauce (a sweet red sauce made from a tart (sour) berry). It's quite a spread (large number of dishes)!
The table is set (prepared). There is a cornucopia (horn filled with food) centerpiece (decoration for the middle of a dining table). There are enough place settings (sets of plates and bowls for use by each person) for all of us, along with polished (with a bright shine) silverware (knives, forks, and spoons). Here's your seat.
Lucy would have helped with all of the preparations, but she is recovering from her latest (most recent) nip and tuck (plastic surgery; surgery to make her look better). She noticed a new wrinkle (fold of skin) on her left knee (joint connecting the two parts of the leg) and had lifts (surgery to pull the skin tighter) done on both legs. She won't be able to walk, but she'll look marvelous (wonderful; amazing)!
But, in all seriousness (not joking), Thanksgiving is a time to remember all of the good things in our lives. Here, at ESL Podcast, we are very grateful to have wonderful listeners and readers like you all over the world.
From the bottom of our hearts (very sincerely), we wish all of you and your family a very happy Thanksgiving wherever you are!
~ The ESLPod.com Family