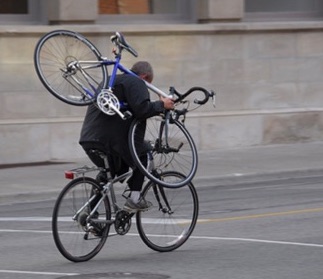 Superheroes have been around for many years. Superman is 78 years old. Spider-Man is 56. Captain Marvel, Batman, Wonder Woman, and Captain America are somewhere in between.
Most heroes, though, are not super. They don't appear in comic books, on television, or in movies. Many times we don't even hear about them. They just do what they believe needs to be done to make their world a better place. We could call them everyday heroes.
Bike Batman – he doesn't want anyone to know his name – is the second kind of hero.
Bike Batman is a 30-year-old married engineer who lives in Seattle, Washington. He's a cyclist (someone who rides a bicycle) and enjoys working on them. When he has time, he buys them, fixes them up, and sells them on Craigslist or other websites where people list things they want to sell.
About two years ago, he was looking for a bike for his wife. He found one on Craigslist that he considered (thought about) buying. As he often does, he also looked at Bike Index, a website where bicycle owners can register (put on an official list) their bikes and, if necessary, report them when they're stolen.
There, on the Bike Index website was the bike he was thinking about buying. What should he do?
Once Bike Batman was sure the Cragslist bike matched (was the same as) the Bike Index bike, he called the person who claimed to be the bike's owner and arranged to meet him – supposedly (that's what the seller thought) to complete the sale.
When the two men met, Bike Batman told the Guardian that he told the thief, "You've got two options (choices). You can wait until a cop (police officer) gets here, or you can just beat it (run away as fast as you can)." You can imagine what the thief did.
When Bike Batman's story came out (became known) in the news, people in Seattle learned that he had recovered (found and returned) 22 stolen bicycles. He looks at bikes for sale on Craigslist and similar websites, and if something seems suspicious (not right), he looks at the Bike Index to see if that bike had been reported stolen.
When he finds a bike that he believes has been stolen, he calls the owner to make sure it's the same bike. If it is, he arranges to meet the seller, just as he did the first time. One thing has changed, though. Today he also calls the police so they can back him up (help and protect him).
Why does Bike Batman do it? He admits (says it's true) that he enjoys the excitement. But most of all, he's doing it to help the city of Seattle – he simply wants it to be known as a friendly city.
Do you know any everyday heroes like Bike Batman?
~ Warren Ediger – ESL coach/tutor and creator of the Successful English website.
Photo from nobrakesatl.