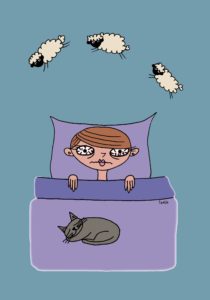 Are you unable to sleep at night because your conscience is bothering you? Your conscience is the feeling you get or the voice in your mind that tells you you're doing wrong. If your conscience is bothering you, you're feeling guilty (with a feeling of having done something wrong) about something.
Instead of taking sleeping pills, what you might need is the Conscience Fund. The Conscience Fund is an account (place to collect money) the United States Treasury Department (the government department in charge of the country's money) created to accept gifts of money from people. The U.S. Treasury created this fund or account for people who have stolen money or have committed fraud (crime of cheating others out of money) against the U.S. government and have a guilty conscience. To make ourselves feel better, those who have committed fraud can donate or give money to the Conscience Fund without giving any details or identifying who they are.
The Conscience Fund first began in 1811 when the government received $5 from someone who said he had defrauded (cheated) the government. Since 1811, the fund has collected over $7 million, receiving about $200,000 a year. The money is put into the government's general fund and used for general expenses (spending).
Most people send in money anonymously (without giving a name or revealing their identity). Some money is sent without any note at all, as in the case of a $155,000 gift from someone in 1990. But others have included a note to explain their transgression (wrong action; action against the rules or the law).
Most money received is in small amounts. For example, one person sent in money and included the note: "Please accept this money for two postal stamps I re-used." Stamps are those small pieces of paper you purchase to be placed on letters and packages to be mailed. They're intended to be used only once, but this person used two stamps twice.
Another person sent in this note with their money: "About eight years ago I took from a railroad station an item worth about $25 and this has been on my conscience since, so I'm enclosing $50 to clear my conscience." To clear (one's) conscience means to do something to correct something wrong one has done or to recognize one's mistake so that one no longer feels guilty.
My favorite is this note from a person with a guilty conscience:  "'Dear Internal Revenue Service*, I have not been able to sleep at night because I cheated on last year's income tax. Enclosed find a cashier's check (a piece of paper that can be exchanged for cash, a way of sending money in the mail) for $1,000. If I still can't sleep, I'll send you the balance (the remaining money; the rest of the money).'" It's not clear whether this guilty person ever sent in the rest of his or her ill-gotten gains (money earned by cheating or through crime) or if this confession (statement of having broken the rules or committed a crime) was enough to allow for a good night of sleep.
The Conscience Fund is an indication that, as a nation, we value honesty (being truthful). But the relatively (fairly) small amount it collects each year suggests that we are either a nation of very honest people or very dishonest people.
~ Lucy
* Internal Revenue Service = the U.S. government department that collects taxes