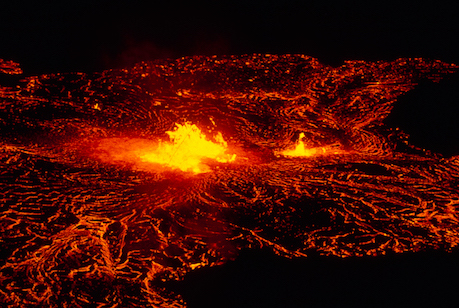 Here's a question for you: In the U.S., what is as large as the United Kingdom (the countries of England, Scotland, Wales, and Northern Ireland) and was visited by more than 300 million people last year?
The answer: our 59 national parks.
A few days ago, we celebrated the 100th birthday of the National Park Service (NPS), which is responsible for taking care of our national parks and other national sites (important places). One 20th-century historian (someone who studies history) called our national parks "the best idea we've ever had." Many would agree.
Our national parks are as diverse (very different from each other) as the people who live in the U.S. You'll find rocky cliffs (side of a mountain that drops straight down) and waterfalls in Yosemite. Seven small islands surrounded (to be all around) by clear blue water in Dry Tortugas.  Wooded (full of trees) hills in Smoky Mountains and Shenandoah. The lowest, hottest, and driest place in the U.S. in Death Valley. Rain forests in Olympic, one of the wettest places in the U.S. Some of the world's largest trees in Sequoia and King's Canyon. Wetlands, crocodiles, and Florida panthers in Everglades. Glaciers (slow-moving sheets of ice) with deep crevasses (cuts in the ice) in Kenai Fjords. The deep, colorful walls of the Grand Canyon. A palace (home for an important person) built by early American Indians in the side of a cliff in Mesa Verde. A quiet path along a slow-moving river in Cuyahoga. Fiery volcanoes in Hawai'i Volcanoes. Trees that are different than any trees you've ever seen in Joshua Tree. Trees that have been dead for hundreds, maybe thousands, of years in Petrified Forest. And that's just a sample (part of the whole group).
There's no better way to explore the parks than to visit them. But if you haven't, or can't, the Internet is a good place to get a taste of them. I invite you to take some time, look around, and discover them for yourself. Here's how you can do it.
For an overview (quick look) of the national parks, watch See all U.S. National Parks in One Minute (Note: there's a short advertisement at the beginning.). You may want to watch it more than once! And to whet your appetite (make you hungry) for more, look at Mark Burns' beautiful new black and white photographs.
Next, look at the short National Geographic Best of… videos from the five most popular parks – the links are below. You'll enjoy the scenery, see some unusual animals, and pick up (learn) some new "park" vocabulary (Note: there's a short advertisement at the beginning of each one.).
For a closer look, the NPS website is the best place to go. Here are the NPS home pages for the 10 most popular national parks. When you get to the home page, click on Plan Your Visit > Places to Go to explore the park.
Here they are:
If you want to visit other parks, you can use the NPS Find a Park page to find their home pages.
My favorites from this list are Great Smoky Mountains, Yosemite, Rocky Mountain (I used to live next to it), and Acadia. Which do you like?
~ Warren Ediger – ESL tutor and coach. My website is Successful English.
Photo from Hawai'i Volcanoes National Park courtesy of Wikipedia Commons.
Note: For a list of all the national parks we've discussed on our English Cafe, see here.