A few months ago, the company that provides me with home Internet and phone service sold that portion (part) of their company to another business. Since then, there have been many news reports about service problems. I'm one of the customers who has been affected (felt the change or influence).
Below are excerpts (short sections) from an actual phone call I made to my Internet provider (company that provides Internet service) to report my problem. The same company provides my landline (regular phone; not cell phone). The person who took my call was named "Kimberly."
…
Kimberly:  What is the problem you're having?
Me:  My Internet has been slow for the past couple of months. This morning, service was cutting in and out (sometimes working, sometimes not). And even when I have service, it's running (operating) very, very slowly.
Kimberly:  [Silence.]
Me: So I'm calling to get my Internet service fixed.
[It takes about six minutes to access my account using my PIN (Personal Identification Number used for security purposes) and for me to give her a phone number she can call me at in case we're disconnected (call ends unexpectedly).  I repeat my phone number three times before she gets it right.]
Kimberly:  Okay, what happens when you have no service?
Me:  Nothing happens. When I have no service, I have no service.
Kimberly:  I mean, are you not getting a dial tone (the stuttering (short, repeated) sound you hear when you pick up a telephone when its not in use)?
Me:  I have FiOS (a type of Internet service using "fiber-optic" wires).  I don't have dial-up (using a telephone line) Internet service.  And I'm not calling about my home phone service.  I have a problem with my Internet service.  That's what I'm calling about.
Kimberly:  [Long pause.]  Do you have pets?
Me:  Huh?  What?
Kimberly:  Do you have pets?
Me:  No, I don't have pets.
Kimberly:  Can you tell me what kind of router (device needed to send digital data, required for Internet service) you have?  I am going to troubleshoot (solve common problems using established steps).
[The call has already lasted 20 minutes and from what I've read about other customers' experiences, I was confident that troubleshooting over the phone would not help. Others have reported being on the phone for three, four, or more hours going through troubleshooting.]
Me:  I'd like to get a service call (repair work done at the location).
Kimberly:  I'm supposed to troubleshoot, but if you request it, I can schedule it.
Me:  Yes, please order a service call.
Kimberly:  Okay, they can be there Monday at 8 a.m. [Six days later.]
Me:  All right.  If they don't show up (arrive as scheduled), is there a number I can call?
Kimberly:  You can call the number you just called. I have to tell you that if they don't arrive by 8 a.m., the window (the time interval (beginning and end time) for arrival, usually for work to be done) is expanded (made longer) to 5 p.m.
Me:  Excuse me?  I don't understand.
Kimberly:  If they're not there at 8 a.m., then they will be there anytime between 8 a.m. and 5 p.m.
Me:  Are you serious?
Kimberly:  Yes.
Me:  [Long pause.]  Okay, thanks.
…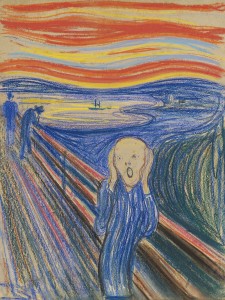 ~ Lucy
Image Credit:  "The Scream" From Wikipedia