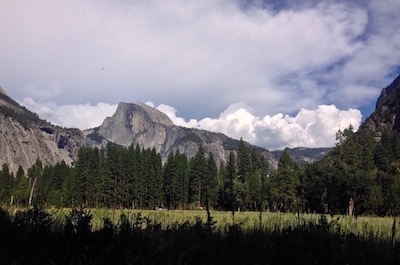 The U.S. has more than 130,000 square miles (about 340,000 square kilometers) of national parks, at least one in every state. They are cared for (operated; maintained) by the U.S. National Park Service (NPS), which will soon celebrate its 100th birthday.
Yosemite, one of the most popular, is in the Sierra Nevada, or Snowy Range (group or line of mountains), in California. Ansel Adam's photos and John Muir's books and articles have introduced many to Yosemite and the Sierra Nevada and played an important part in the beginning of the NPS.
Muir, an immigrant from Scotland, once wrote that "The mountains are calling, and I must go…." He lived alone for 15 years, observing, experiencing, and writing about the Sierra Nevada. Today's blog post is from The Yosemite National Park, an article he wrote for The Atlantic magazine in 1899. I have made some changes to his article to make it easier to read.
Of all the mountain ranges I have climbed, I like the Sierra Nevada the best. Though extremely high and rugged (rough), it is welcoming and easy to explore. Its beauty invites a visitor on and on, higher and higher, delighted and fascinated. Filled with divine (God-like) light, everything you see glows (shines with light), and every plant, animal, or rock beats (like a drum) with the heartbeats of God.
The Sierra seem to get more light than other mountains. The weather is mostly sunshine, made even more beautiful by occasional magnificent (beautifully impressive) storms. Nearly everything shines, from base (bottom) to summit (top)—the rocks, streams (small rivers), lakes, glaciers (slow-moving sheets of ice), waterfalls, and forests. It could easily be called the Range of Light, not the Snowy Range, because it is white only in the winter, while all the year it is bright with light.
Yosemite National Park – 36 miles (58 km) long and 48 miles (77 km) wide – lies in the center of the Sierra Nevada. The famous Yosemite Valley (land between mountains) lies in the heart of it. The Valley includes the beginnings of the Tuolumne and Merced rivers, two of the most musical streams in the world; uncountable lakes and waterfalls and smooth silky meadows (grassy areas); the noblest (majestic; dignified) forests; the highest granite domes (rounded tops of mountains); the deepest canyons (narrow rocky valleys); snowy mountains rising into the sky twelve and thirteen-thousand feet (3700-4000 m), with avalanches (snow falling down a mountain) roaring down their long white sides; water rushing noisily through narrow canyons; and glaciers working slowly and silently in the shadows to create new lakes.
Nowhere will you see the impressively beautiful work of nature more clearly side by side with the most gentle and peaceful things. Nearly all the park is filled with deep silence. Yet it is full of pleasant company, full of God's thoughts, a place of peace and safety in the middle of the most impressive beauty and activity, a new song, a place of beginnings, full of lessons about life, mountain-building, never-ending, unchanging, unbreakable; with sermons (messages from God) in stones, storms, trees, flowers, and almost human-like animals.
But to try to put all this into words is a hopeless task. The simplest sketch (drawing, or a description of a thing) of each part would need a whole chapter in a book. No amount of space, however small the writing, would be large enough. I can only begin to strongly encourage good travelers to come to the feast (meal of celebration).
You can read all of Muir's article here: The Yosemite National Park.
~ Warren Ediger – ESL coach/tutor and creator of the Successful English website.
Photo of Yosemite Valley by W. Ediger