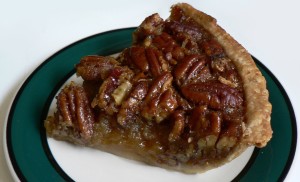 Today is National Pecan Pie Day. Personally, I hate pecan pie (see photo), so I'm not going to celebrate it.
You may be wondering, as I am, why there is a National Pecan Pie Day and why it is on July 12th.
Apparently (It would seem), the companies that grow and sell pecans want to remind everyone to buy their product (what they sell), although I was unable to find the history of this "national day" or what is so special about July 12th that we have to celebrate it today.
Of course, most Americans have no idea today is National Pecan Pie Day, because it is not a "real" holiday.
Over the last several years, nearly every day of the year is called "National Something Day," often as part of some marketing (attempts to sell something) scheme (plan) by companies to sell more of their products.
Did you know that July 9th was National Sugar Cookie Day? Neither did anyone else, but according to this website, which lists all of these bogus (false; not real) "national days," it was.
Sometimes these silly (stupid; foolish) national days are supposed to be fun. For example, according to one website, August 11th is "National Presidential Joke Day," when (I think?) the president is supposed to tell a joke. Or perhaps we're all supposed to tell a joke about the president. No one really knows.
Not satisfied with a single day, some companies and causes (groups of people in favor of certain ideas or policies) have taken over entire months, so we get things like "National Heart Month" (February),  "National Novel Writing Month" (November), and (my favorite) "National Sarcastic* Awareness Month" (October).
Yes, there's even a National Cat Day. It's on October 29th.
~Jeff
*Sarcastic means to say one thing when meaning the exact opposite in order to be funny. An example (for me) would be: "I can't wait for National Cat Day this year!"
Image credit: Wikipedia