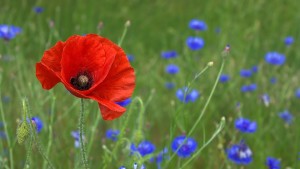 Today, we observe (celebrate; recognize) Memorial Day, a federal (national) holiday to remember those who died while serving (working) in the military (a country's fighting forces). It seems fitting (appropriate) to talk about one of the most famous poems of the 20th century (1900s).
After World War I, poppies (see photo) became associated with the fallen (dead) soldiers of war. This was mainly due to a poem called "In Flander's Field."
In 1915, after presiding over (being in charge of and saying words at) the funeral (ceremony to bury the dead) of his friend and fellow soldier, a Canadian doctor named John McCrae wrote the poem "In Flanders Field." The term "Flander's Field" was used by the English to refer to the area between East and West Flanders in Belgium where some of the biggest battles (fights within a war) were fought during World War I at Ypres.
The poem was first published in December 1915 in the popular English magazine Punch and uses the imagery (description of things we see) of poppies growing between graves (marked places where the dead are buried) to remind us of the people who sacrificed (gave up; surrendered) their lives in war.
In Flanders Field
by John McCrae
In Flanders fields the poppies blow
Between the crosses, row on row,
That mark (indicate) our place; and in the sky
The larks (small songbirds), still bravely singing, fly
Scarce (seldom; not often) heard amid (among) the guns below.
We are the Dead. Short days ago
We lived, felt dawn (when the sun rises), saw sunset (when the sun sets) glow (give off light),
Loved and were loved, and now we lie
In Flanders fields.
Take up our quarrel (argument; fight) with the foe (enemy):
To you from failing (weakening; dying) hands we throw
The torch* (a stick with fire burning at the end); be yours to hold it high.
If ye (you) break faith (are disloyal; fail to support and give help) with us who die
We shall not sleep, though poppies grow
In Flanders fields.
* "To pass the torch" means to transfer the duty or responsibility to someone else, so McCrae is talking about passing the responsibility of fighting and defeating the enemy to other soldiers.
The poem became very popular during the war and is still considered one of the most famous poems of that era (period in history). Inspired by the poem, the American Legion, an organization of former soldiers formed in 1919, used the poppy as a symbol to remember those who died in World War I. This was adopted (taken and used) by other military groups in the United Kingdom, Canada, Australia, and New Zealand. Today, in the U.S., poppies don't have a strong association with those who died in war, as it does in the U.K. and other countries. However, this poem is still well known and studied in some schools.
How are the fallen soldiers remembered where you live?
~ Lucy