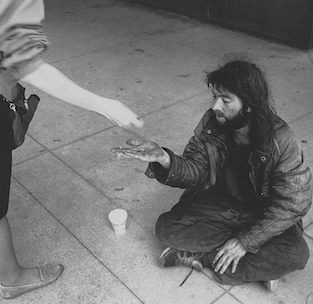 No one will confuse Abe Hagenston with Mark Zuckerberg (Facebook), Evan Spiegel (Snapchat), Larry Page (Google), or Jeff Bezos (Amazon). They are all successful high-tech entrepreneurs (someone who starts a business from a new idea). He is a panhandler (someone who asks or begs for money). But they do share a small similarity.
You'll find panhandlers everywhere you find people. On the street. In subway stations. At the airport. In front of the coffee shop. Most are homeless and don't have jobs.
Abe Hagenston fits that description. He spends most of his time on a corner in Detroit, Michigan. He and other panhandlers work that corner in shifts (at different times) every day, hoping for handouts (something given to a needy person) from people who drive or walk by.
Most panhandlers use a cup or some other container to collect the handouts they get, but not Hagenston. He accepts credit cards. We might call him a high-tech panhandler.
Hagenston has a simple cellphone he got from the government's Lifeline Support program for people who can't pay for regular telephone service. And he uses a Square Reader, a 10-dollar device that plugs into his cellphone and makes it possible for him to read credit cards. He told a Detroit TV station: "I take Visa, MasterCard, American Express. I'm the only homeless guy in America who can take a credit card. It's all done safely and securely (in a way that protects something from being stolen)."
Hagenston has other high-tech ideas for supporting himself and other homeless people. He has a simple website that he uses to tell his story and ask for money. And he's using the website to try to find work for himself and his friends. "I've got about 20 or 30 friends around here all homeless, all [with] various skills that would love to get some work." He hopes that people will use the website to find someone – homeless people like himself – to mow their lawns, clean out their garages, and do other odd (simple, usually one-time) jobs.
Hagenston has been homeless for almost seven years. It's unclear how or why he became homeless. He says it's not because he doesn't want to work. He says that its difficult to "pull yourself out of poverty" without friends or family to help.
Homelessness is a serious problem in the U.S. as it is in many other countries. Every January the U.S. government tries to count all the homeless in one day to get a kind of snapshot (quick photo) of homelessness. In 2015 they counted more than 500,000, 25% of them children. The number who suffer homelessness at some time during the year is much higher, perhaps more than 3.5 million. People become homeless for a variety of reasons and often can't do anything about it without help.
~ Warren Ediger – ESL coach/tutor and creator of the Successful English website, where you can find help to improve your English.
Photo courtesy of Wikipedia Commons.