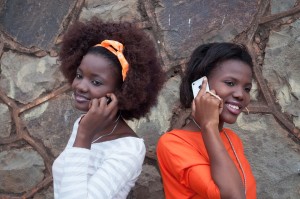 If you're an English learner, you know that not all Americans speak alike. In a country as big and diverse (with many types of people) as the United States, you'll find people speaking differently, often because of geography (related to location of places).
For instance, if you're a longtime listener, you may have noticed that Jeff and I have very slight (minor; little) differences in the way we pronounce certain words, such as "open" or "bag," because Jeff is from Minnesota (in the middle of the country) and I'm from Arizona (in the southwestern part of the U.S.).
A research and consulting (providing work or advice) firm (company) recently released the results of its analysis (detailed examination) of four million customer service calls. These calls were recorded when customers called a company for a wide range of reasons, such as to ask questions, get help, change services, or complain. By law, businesses and organizations must tell a caller that a phone conversation is being recorded, so Americans are accustomed to hearing a recorded message while they're on hold (waiting), such as "This call is being recorded to ensure quality of service" or "This call is being recorded for training purposes." This firm analyzed four million of these types of calls between 2013 and 2015.
The firm found that, on average (generally), people in northern states speak faster than those living in southern states, which is what most Americans would expect. The fastest talkers are in Oregon, Minnesota, and Massachusetts. The slowest talkers are in Mississippi, Louisiana, and South Carolina.
Their analysis also found that people in some states are wordier (use more words) than others, saying more during their calls than people from other states. The states in which people talk the most include New York, California, and New Jersey, states on the east and west coasts (land bordering a sea). People who speak the least amount include Iowa, Minnesota, and Wisconsin, states in the north central part of the country.
Are there differences in how fast and how much people speak in different parts of the countries where you've lived? Are you talkative (speaking a lot) or taciturn (saying little)? Are you a fast or slow talker?
~ Lucy