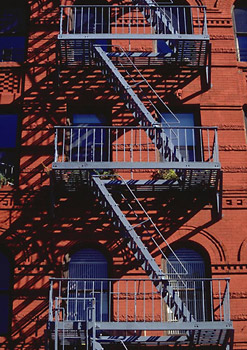 When you walk through the older parts of American cities, if you stop and look up you'll see fire escapes climbing up the outside of many older buildings, as in the photo.
The need for fire escapes – steel platforms (a place to stand on) and stairs attached to the outside of a building – grew in the mid-1800s in the U.S. Many people were moving to cities to work in factories and other jobs. And many of them moved into apartment or tenement (a building with rooms or apartments for poor people) buildings made of wood.
Most of these buildings had one open stairway in the center of the building. It was the only way to get in and out of the building. If a fire started, the central stairway made it easy for the fire to quickly spread to the upper floors*. And it made it difficult or impossible for the people in the building to escape (get out and away from the fire).
In 1860, a six-story New York tenement, where 24 families lived, burned when a fire started in a bakery on the first floor. Firemen's ladders weren't long enough to reach the people at the top of the building, and 10 women and children died in the fire. Soon, laws were passed that required outside fire escapes to be attached to large buildings.
In the 1920s, outside fire escapes began to be replaced by inside stairways that are designed to be safe from fire. New York City outlawed (made them illegal) outside fire escapes in 1968.
In a recent photo essay (group of photos that tell a story), Patrick Sisson describes the history of fire escapes and shows how they became an important part of city life.
For many people, the fire escape became an extension (part added to something to make it larger) of the apartment or room they lived in. On hot days, it became a place for people to escape a hot apartment; on a hot night, a mattress turned it into an outdoor bedroom.
Fire escapes provided quiet places to talk with a close friend or read or think alone. They also provided space to grow flowers or vegetables in pots or other containers.
Fire escapes became a front porch (platform attached to the front of a house) for many apartment dwellers (someone who lives in a particular place). People spent hours outside on their fire escape watching city life walk and drive by.
I encourage you to take time to look at Sisson's photo essay and, if possible, to watch the short video in it from Alfred Hitchcock's 1954 movie Rear Window. It'll show you a little of what apartment living in New York used to be like, complete with fire escapes.
* "Floor" and "story" both refer to the different levels of a building – for example, the 51st floor or 51st story. In the U.S., the ground floor is the first floor or story; in some countries, the first floor is the one above the ground floor.
~ Warren Ediger – ESL coach and tutor and creator of the Successful English website.
Photo courtesy of Wikipedia Commons.