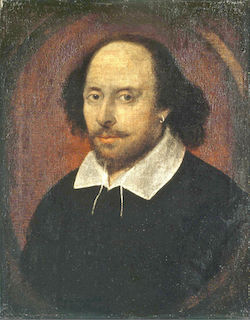 Almost all American students get to know William Shakespeare, England's most famous writer. Some fall in love with him – like my youngest daughter who read all of his plays (a story performed by actors in a theater) one summer. Others count the days (wait anxiously) until they can forget about him.
Many words and phrases (a group of words with meaning) we use today appeared first in one of his plays – about 1,700 of them according to one source (a place where you get information). Here are a few of the most common; I've given you the phrase, the play it appears in, a definition, and an example sentence:
With bated breath (The Merchant of Venice) – feeling anxious or excited.
He asked her to marry him, then waited with bated breath for her answer.
It's (all) Greek to me (Julius Caesar) – I can't or don't understand it.
Prof, I know you explained this in class today, but it's still Greek to me. Would you please explain it one more time?
Love is blind (The Merchant of Venice) – If you love someone, you don't notice or see their faults (bad things about them).
He's not good looking and not very smart, but she still likes him. Whoever said that love is blind was right about that!
A heart of gold (Henry V) – to be very kind and generous (willing to help people by giving money, spending time, etc.).
She would do anything for you: she has a heart of gold.
Break the ice (The Taming of the Shrew) – to make people feel more friendly and willing to talk to each other.
Some of us were uncomfortable at first, but after Tom broke the ice, we all had a great time at his dinner party.
Neither here nor there (Othello) – not important.
What I think about him is neither here nor there: he's your friend, not mine.
All's well that ends well (All's Well That Ends Well) – a difficult situation that has ended with a good result.
My car had a flat tire, we got here late, but we finally made it (arrived). Like they say, "All's well that ends well."
Too much of a good thing (As You Like It) – more of something than is good or useful; too much of something good may be bad.
Exercise is good for you, but too much exercise may be too much of a good thing. Your body needs time to recover (return to a normal condition).
Wild goose chase (Henry IV) – a situation where you are looking for something that does not exist or that you probably won't find, so that you waste a lot of time.
What a wild goose chase! We looked all over town only to learn that the thing she wanted isn't made any more.
How many did you already know? If you'd like to see more of Shakespeare's phrases and sayings, try The Phrase Finder.
~ Warren Ediger – ESL coach/tutor and creator of the Successful English web site.
P.S. You can find more detail on some of these phrases in previous ESL Podcast episodes: It's Greek to me (and here), neither here nor there, wild goose chase, and heart of gold.
Public domain painting of Shakespeare from Wikipedia Commons.