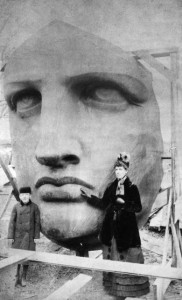 We've all had the experience of assembling (putting pieces together) furniture, a toy, or an appliance (machine used in the home). Sometimes, it turns out to be (has the unexpected result of) a bigger and more difficult job than we anticipated (expected; predicted).
Now imagine putting together the Statue of Liberty.
I talked about the Statue of Liberty in English Cafe 488, so you already know that the Statue was a gift from France, and that it was transported from France to the United States in June of 1885.
But did you know that the Statue arrived in over 210 packing crates (large containers made of wood used for transporting things) with 350 pieces inside?
Once the pedestal (base; foundation) was built, the workers began assembling the Statue. Fortunately, under the direction of (with the guidance or help of) French sculptor Auguste Bartholdi, who designed the Statue of Liberty, the Statue had been constructed on a frame (hard structure) in France. Each piece had been assigned (given) a number or a symbol (simply drawn figure or picture) before it was dissembled (taken apart) for transport to the U.S.
The pieces that should be fit together (put next to or connected to each other) had matching numbers or symbols, and they had holes that lined up with (matched) holes in the adjacent (next to it) piece so that they could be riveted together (for short metal pins or bolts to be placed through both, connecting the two).
The outer (on the outside) pieces were made of thin copper, a light-weight metal that is a reddish-brown color. Although the French workers had packed each copper piece very carefully, many of the pieces were bent (had their shape changed) during the sea voyage (trip). The workers assembling the Statue had to patiently (carefully, without being in a hurry) put the pieces back into their original shape.
The Statue of Liberty was unveiled (shown to the public) on October 28, 1886. You can see some of the pieces before and during assembly here and here, and here.
~ Jeff
Photo Credit: Head of the Statue of Liberty  from Wikipedia