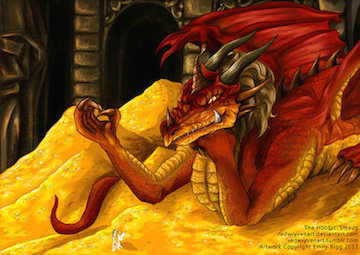 "Hoard" is not an everyday word, but the idea of hoarding often appears even when the word isn't used. Let me give you a couple of examples.
Some of my students have enjoyed The Hobbit and Treasure Island – two books that have been made into movies. In The Hobbit, Smaug is the dragon that kills most of the dwarves (imaginary creatures that look like small men), takes their gold and other treasures (something valuable), hides them deep inside Lonely Mountain, and uses them as a bed. Smaug is a hoarder.
In Treasure Island, Jim finds a map and, together with some others, follows it to an island where a very large treasure has been buried by a pirate (someone who robs or steals from ships at sea) named Flint. Flint is also a hoarder.
A hoard is a large collection of things that someone hides so no one else can find it. Sometimes people will hoard things like food to have it in an emergency, for example, during a war.
When we hear the word hoard or hoarder today, we often think about something a little different. We think about people who become so attached to things with little or no value that they find it difficult to throw them away.
Elizabeth is a good example. She is a writer. And she worries that she and her partner are hoarders because their small house is full of things they have collected but never use. She writes:
I'm pretty sure my partner and I are hoarders, or least well on our way. We have one entire room in our house that's too full of clutter (a large number of things that are scattered around) to walk through — a library of junk (old unwanted objects)….

What's in there? Comic books. Textbooks. A shoe collection. Costumes. Sewing notions (supplies). Slightly used wrapping paper. Old photos. Plastic bugs. Real dead bugs…. Pulp fiction (popular stories). Action figures. Notebooks. Items carelessly chewed by long-dead pets. Wine goblets (glasses)….

The junk room door is always closed. My daughter doesn't even know we have a third bedroom.

The rest of the house isn't much better.
For some people, hoarding is not just a bad habit (something you do automatically without thinking). It's a serious problem. It's irrational (it doesn't make sense) and compulsive (they can't stop). Their houses and apartments become so full of junk that they are no longer safe or healthy to live in. And they do everything they can to make sure that other people don't find out what they are doing.
Elizabeth worries that they're hoarders. But her partner thinks they're just messy. And she says that he's probably right for now. But she worries that they might become hoarders after her daughter leaves home.
One short note: there is another word – horde – that sounds the same as hoard. Horde refers to a large group of people – for example, "A horde of soccer fans ran onto the field after the soccer game."
~ Warren Ediger – ESL tutor/coach and creator of the Successful English web site.
Photo of Smaug from deviantart.net is used under Creative Commons license.