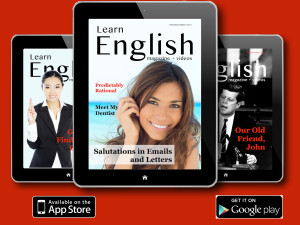 I have some very exciting news to announce today: ESLPod.com now has an app on the Apple and Android app stores. It's called Learn English Magazine, and it's free!
Learn English Magazine includes some of the best material from our website, plus several new ways to improve your English, including videos, cartoons, and articles that you can only find in the magazine.
Every regular issue is free.
Apple users can download the app and subscribe here.
Android users (4.1 or later operating system) can download and subscribe here.
There are already four cool issues for you to download and enjoy. We'll be publishing the magazine every two weeks.
To my knowledge, Learn English Magazine is the only free magazine app for learning English on either the Apple or Android app stores, so be sure to share the news with your friends, family, and coworkers.
Also in the magazine is the opportunity to sign up for a new special report I've written with information on how to improve your English, called "5 Things You MUST Know to Improve Your English." To get the special report and additional tips on improving your English speaking and listening, download the magazine app, subscribe, and look for the special report offer inside the magazine.
If you have ever wondered how you should go about improving your English quickly, then you should read this special report, which you can only get in the magazine.
Here are some of the item in our latest issue (Issue #4):
Videos: Fling, Cast, or Toss?
My Life in English: The Catcher in the Rye and the American Teenager
Vocabulary: Why Having Convictions is Not the Same as Being a Convict
Business English: Selling on the Internet
Warren Ediger's America: California's Beauty in the Work of John Muir
Life in the U.S.: Why Dumb People Call the Police
Last Laugh: No Strings Attached (Cartoon)
Oh, and if you have time after you download the app, I would really appreciate it if you could write a review in your country's app store. The review does not need to be in English, and it would really help us get the word out (let other people know) about the new magazine.
~Jeff