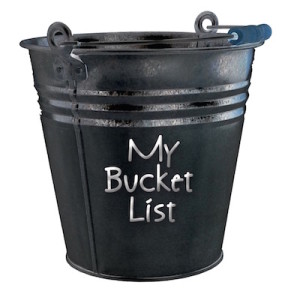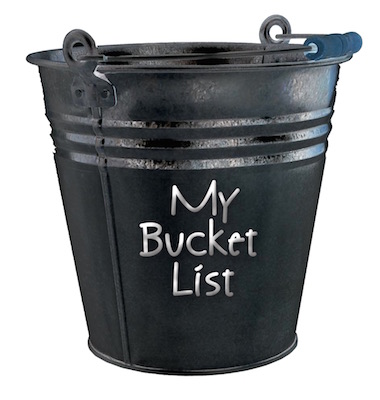 For word lovers, it's often fun to trace (find or discover) the history of a word. I frequently stop at the Online Etymology Dictionary – etymology is the study of the beginnings, history, and changes in the meanings of words – to do just that.
A recent article in the Wall Street Journal tells the story of a word – bucket list – that first appeared just a few years ago but has already become very popular. How popular? I received more than 63,000,000 search results when I googled it (searched for it using Google).
In the popular 2007 movie Bucket List, the word meant a list of things that you haven't done, but want to do before you die. The movie was about two men who had terminal (an illness that causes death) cancer and tried to do as much as they could before they died. The movie is how most people first learned about the word.
To understand where bucket list came from, you have to go back to an idiom – kick the bucket – that first appeared in 1785. You may have heard that one. If someone kicks the bucket, it means they died. There are several different ideas about where the idiom comes from, but no one really knows for sure.
In 1999, Justin Zackham, the man who wrote the movie, began a list that he called "Justin's list of things to do before he kicks the bucket" – things to do before he dies. The name seemed too long, however, so he shortened it to "Justin's bucket list."
As Zackham's bucket list grew, he decided that a bucket list would make a good story for a movie. He wrote the movie script (the written form of a movie), and when the movie was completed, everyone agreed that Bucket List was the best name for it.
When words become popular and a lot of people begin to use them, the way they use them often changes. Bucket list is no exception (it's not different). Zackham first used it to describe the list of things he wanted to do before he died. But a few months ago, President Obama used it in a speech to refer to the things he wanted to do before the end of his presidency (time as president). As a result, the meaning of bucket list has already shifted (changed) to include the things someone wants to do before an important time in their life.
Let me make a prediction (say what will happen). I think that a lot of people will think that bucket list is a cool (fashionable, attractive) new word and want to use it. And they will use it in a variety of new ways – for example, to refer to any list of things that they need or want to do, what we call a to-do list. Some day you'll be able look in a dictionary and see if I was right.
I'm wondering, what would you put on your own bucket list?
~ Warren Ediger – ESL coach/tutor and creator of the Successful English web site.
Photo from irrevspeckay.