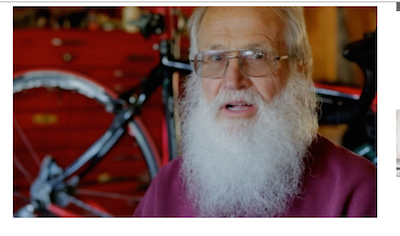 I found a new hero a few days ago. I had never heard of Terry Taylor, and I still don't know very much about him. But I've learned enough about him to make him one of my heroes.
Heroes are people we admire (think highly of) for what they have done or the kind of people they are, often both. Sometimes heroes become like teachers to us. As we get to know them, we often find ourselves becoming like them in important ways without consciously (thinking about) trying.
I've had a number of heroes – and still do. My grandfather was one. He was a farmer and not well-educated, but he was a student all his life and never stopped learning. When he was 98 years old, he told me about something that he had learned recently, then laughed and said, "You'd think that by my age I would have learned that already!" I'm sure that a lot of my love for learning comes from him.
William Zinsser is another. He was a journalist (news writer, reporter) first, then a much-loved teacher of writing and author of many books and articles. Almost 30 years ago, I read his first book, about writing. Soon after that I read Willie and Dwike, his book about two African American jazz musicians who traveled across the U.S. and around the world, introducing jazz to people who didn't know about it.
I've read almost everything Zinsser has written – about writing, about learning, about the people and places that have helped make America what it is. I admire the way he writes – clearly, concisely (without unnecessary words), and personally. As a result, I'm sure there's a little of William Zinsser in everything I write.
My newest hero is Terry Taylor. I admire the fact that Terry, who was a mechanic (car repairman), has been riding a bike (bicycle) for more than 70 years. "I ride to live, and I live to ride," he says. "If I don't ride, I get real grumpy (disagreeable)." Forty years ago, Terry was one of a group of riders that rode across the U.S. – 4200 miles (6759 km) – to celebrate America's 200th birthday. Next year, when he's 78 years old, he hopes to do it again.
I also admire how Terry thinks about growing older. He says that his bike riding has helped him stay healthy and live a long life. "Bicycling helps you grow old gracefully (in a pleasant way). You're not going to get out of (avoid) growing old, but maybe you can grow old gracefully. I look around at other people my age, and I'm amazed at how old they look. I hope I don't look that old. I want to be the best I can at whatever age I'm at, physically and mentally."
Like Terry, I enjoy bike riding. And I admire the way he thinks about getting older and how bike riding helps him do that gracefully. That's why he's my newest hero.
~ Warren Ediger – ESL coach/tutor and creator of the Successful English web site.
Terry Taylor's story comes from Bicycling Magazine.
Photo of Terry Taylor from Life on Two Wheels by Peter Taylor.