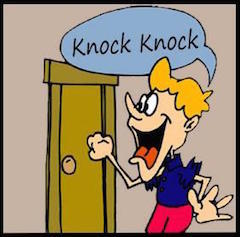 Knock knock.*
Who's there?
Joe King.
Joe King who?
Joe King (Joking) like this used to be considered a sickness by some people.
Knock-knock jokes. Some people laugh at them. Others groan (make a long deep sound because you're upset or in pain).
As Jeff explained in English Cafe 339, knock-knock jokes are like a short conversation between two people that uses a pun to create humor (something that makes us laugh). A pun's humor comes from using two words that sound alike but have different meanings.  Sometimes two words – like "Joe King" (a person's name) – are put together to sound like another word – "joking" (being funny) – with a different meaning. We laugh because we don't expect the second meaning. It surprises us.
So, where did knock-knock jokes come from? Linton Weeks, from National Public Radio (NPR), recently wrote that this kind of humor started with "do you know" jokes in the early 1900s. A do-you-know joke works like this:
Do you know Arthur (a man's name)?
Arthur who?
Arthurmometer (our thermometer ((piece of equipment that measures temperature)).
In the 1920s a new kind of joke, called a "nifty," appeared. Nifties were popular among flappers (fashionable young women) and their friends. Imagine a nifty between a flapper and her boyfriend:
Have you ever heard of Hiawatha (native American Indian chief)?
Hiawatha who?
Hiawatha (I was a) good girl until I met you.
By the middle of the 1930s, knock-knock jokes had arrived and could be heard almost everywhere. There were knock-knock joke contests. Swing (dance) orchestras put them into their songs. Politicians used them to try to get people to vote for them. A grocery store in Pennsylvania even ran a newspaper advertisement that said:
Knock! Knock!
Who's there?
Don.
Don who?
Don (don't) forget to do your shopping at (name of the store)….
One newspaper complained (to say you are annoyed or unhappy) that "you can't turn the radio on anymore without getting one of the knock-knock gags (jokes)."
So, you can see that not everyone liked knock-knock jokes. Many thought they were silly. Some psychologists even thought that humor like this was a kind of mental sickness. Because knock-knock jokes use questions that can't be answered, one psychologist suggested that many people use them to try to show that they're smarter than everyone else.
Knock-knock jokes are still around; they're especially popular with kids. You can find hundreds of knock-knock joke books on Amazon. And, from time to time, some of us older kids feel the need to tell just one more:
Knock knock.
Who's there?
Orange juice.
Orange juice who?
Orange juice sorry (aren't you sorry) you read this blog post?
Please tell me you're not!
~ Warren Ediger – ESL coach/tutor and creator of the Successful English web site, where you will find clear explanations and practical suggestions for better English.
* This post is adapted from The Secret History of Knock-Knock Jokes by Linton Weeks.
Photo from elistmania.com.