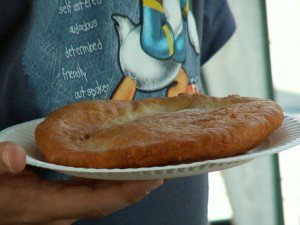 When I was in middle school (grades 6-8, about age 11-13; also called "junior high school") and in high school (grades 9-12, about age 13-17), my friends and I would hang out (spend time) at the mall (shopping center with a lot of stores) on the weekends during our summer vacation. One of the things I looked forward to was the food.
We would often buy snacks and drinks from the stands selling food. Instead of a food court — an area in a mall with many fast food restaurants and shared tables for people to sit at to eat — these individual stands would be located throughout the mall, in the middle of the long walkways. A stand is simply a table, cart, or simple structure allowing customers to stand on one side and the employee to stand on the other to do business. To drink, my favorite was the Orange Julius stand, selling a very sweet orange drink that tasted as though it contained 1% orange juice and 99% sugar — delicious!
For food, my favorite was Indian fry bread. While Orange Julius is a national chain (company with many locations), the Indian fry bread stand was a local (belonging to this area or region) business. I didn't know that when I was growing up. I assumed all Americans knew about and ate Indian fry bread, but of course I was wrong. Living in Tucson in southern Arizona, I was lucky to be introduced to this very yummy (delicious) snack because of the city's proximity (nearness; close location) to the largest in area (land space) Indian reservations in the United States.
We've talked about Indian reservations in several podcast episodes (see, for example, English Cafe 139 and English Cafe 477). Indian reservations were pieces of land set aside (reserved) by the U.S. government for the purpose of forcibly (using force, against someone's wishes) relocating (moving to a new place) Native American tribes off the land they occupied and onto less desirable (useful or wanted) land. Indian fry bread grew (developed) directly out of the establishment of reservations.
In 1864, one of the Native American tribes, the Navajo people, were forced by the government to leave their lands in Arizona and western New Mexico. The government forced the Navajo to walk 300 miles to a new area north, covering (including) parts of northeastern Arizona, southern Utah, and northwestern New Mexico. This march was called the "Long Walk."
On the new land, the Navajo could not grow the crops (fruits and vegetables grown for food) that previously had been the main part of their diet (what they ate): vegetables and beans. This not only changed their entire way of life, it also threatened (with the possibility of something bad happening) starvation (death because of the lack of food). The government did give them some food: canned goods (food stored in cans), white flour (powder made from grain used to make breads and cakes), processed sugar, and lard (fat from the stomach of a pig).
With these ingredients, the Navajo had to make do (do the best they could with the limited things they had) or die. This is how Indian fry bread was born (created). Indian fry bread is essentially (mainly) dough made from white flour and water deep fried in lard (cooked by placing it entirely in melted lard at high heat). A popular variety (type) — and my favorite — is sprinkled (for small amounts of a substance to be scattered (placed randomly) on top) with powdered sugar (sugar that is very fine (in very small pieces) and looks like dust).
Today, Indian fry bread is considered an integral (necessary and important) part of Navajo culture, and is popular among some of the other Native American tribes in the Southwest as well. It is an important part of cultural gatherings and celebrations called powwows. However, as you can imagine, a diet with a lot of deep-fried dough in lard is not very healthy, and in fact, poor health is a very big problem on many Indian reservations, including the Navajo Nation (reservations have their own governments).
While fry bread is an important part of the culture, it is controversial (a cause for disagreement), too. For some, it is a symbol (something that represents something else) of the government's long history of ill-treatment (doing bad things to other people) toward Native Americans, one that continues to cause health problems for the Native Americans today. For others, though, it represents resilience (ability to stay alive even in very bad conditions).
If you visit Arizona or other parts of the America Southwest and see Indian fry bread for sale, I urge you to try a piece. But for the sake of (for the benefit of) your health, share it with nine of your closest friends.
– Lucy
P.S. There is a controversy (disagreement) about which term to use for the people who lived here before the arrival of Europeans. I'm using the term "Native Americans," but Indian fry bread probably comes from the term "American Indians," a term used less commonly nowadays (today). If you're interested, you can read more about that controversy here.
Photo Credit: Frybread from Wikipedia