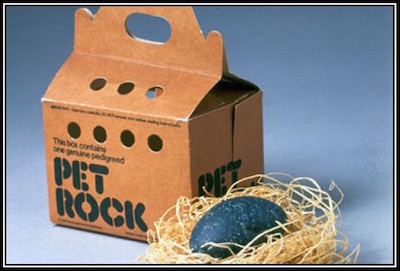 Gary Dahl is not a household (remembered by everyone) name. But when he died last week, newspapers and TV news programs around the U.S. paid homage (did something to show respect) to him.
Dahl was responsible for what Time magazine called "One of the top 10 toy crazes (something that becomes popular suddenly but for only a short time)" of all time. Newsweek called it "one of the most ridiculously (silly or unreasonable) successful marketing schemes (clever plans) ever."
Dahl's scheme was born during a conversation with friends in a Northern California bar. They were complaining about their pets and all the care they required – feeding, training, cleaning. Dahl listened for a while, then told his friends that his pet never caused any trouble and required almost no care. They looked at him, and he quietly said, "I have a pet rock."
He said it as a joke, but it soon became a business idea, and Dahl decided to sell Pet Rocks. He found a couple of friends to provide the money and began to work.
Pet Rocks were ready in time for Christmas 1975 and quickly became the gift that everyone had to have. The small smooth stones, just large enough to hold in your hand, came in a box that doubled (had another use) as a carrier. The box had holes in the sides so the rock could "breath." And the Pet Rock sat in the box in a nest (a place where birds or other small animals live) of straw (dried stems of wheat or other plant) (see photo).
The best part of Dahl's idea, and probably the funniest, was the 20-page manual (instruction book) that was included with each Pet Rock. It begins with this warning:
"Your new rock is a very sensitive (easily upset) pet and may be slightly traumatized (to be so upset that it affects you for a long time) from all the handling … required in bringing the two of you together. While you may look in on your new pet from time to time, it is essential (necessary) that you leave your rock in its box for a few days."
You can read the manual here; it's easy reading and very funny, especially if you remember that it's talking about a rock.
More than one million people paid $3.95 each for a Pet Rock. But by February 1976 they had disappeared from the market. Interestingly, they became available again in September 2012 and, if you'd like to have your own Pet Rock, a simple Google or eBay search should help you find one.
Thank you, Gary Dahl, you made us smile, again!
~ Warren Ediger – ESL tutor/coach and creator of the Successful English web site, where you'll find clear explanations and practical suggestions for better English.
Photo (cropped) by MegadriveFanboy used under Creative Commons license.