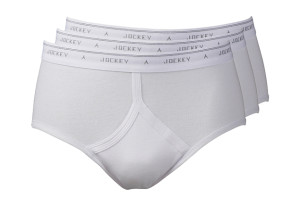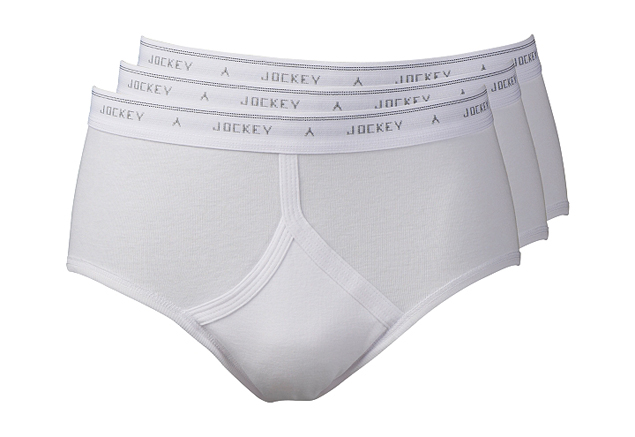 If you mention the term "tighty whities" to any American, they'll know you're talking about close-fitting underwear that men wear (see photo) that is most often found in the color white. The term "tighty whities" is an informal term for these briefs. While today men's underwear is available in many shapes, lengths, and fits, tighty whities are considered classics and continue to be very popular.  (Note that we always use this term in the plural — "one pair of tighty whities," just like we would say "one pair of pants.")
In the U.S., tighty whities or briefs are a fairly recent invention (new creation). Before they came along (were created), men wore tight-fitting underwear that reached down to their knees in a soft warm material called "flannel," and they were often called "flannels" or "drawers." (There were also other types of men's underwear, usually worn for warmth called union suits or long johns. While we still use the term "long johns" for warm underwear for men and women that reach down to the wrists and ankles, we don't use the term "union suit" anymore.)
In 1935, a clothing designer and company executive (person with a high-level position in a company) named Arthur Kneibler received a postcard from a friend. Kneibler's company made socks and underwear. The postcard he received was sent from a friend vacationing on the French Riviera, a popular place to visit with beautiful beaches. The postcard showed a man in a bathing suit popular in France at the time (see photo here). The tight-fitting lower section of the bathing suit inspired (caused someone to have an idea) Kneibler to invent the underwear you see above. The new underwear did not have legs — as drawers, long johns, and union suits had — but instead had a "Y"-shaped front for the fly, or the opening in the front of a man's pants or underwear. This new brief gave men support, but was also comfortable.
The company called these new briefs "Jockeys" because of their resemblance to (appearance similar to) a jock strap. The new Jockeys went on sale on January 19, 1935 in a Chicago department store called Marshall Fields. The new underwear was displayed on a mannequin (life-size figure used to display clothes). It was a very cold and windy day and the store didn't expect many customers. However, all 600 pairs of this new underwear were sold in just one day! Within three months, more than 30,000 pairs of briefs were being sold all over the country. And, as they say (as is popularly said), the rest is history (everyone knows what happened next).
It's not clear when people started using "tighty whities" as a nickname for white briefs, but it's almost always used jokingly. For this reason, you wouldn't, for example, ask the salesperson at the store where you can find the tighty whities, but rather you would ask for "men's briefs" or "men's jockeys." (You'll want to specify men's because we also describe women's underwear with the terms "briefs" and "jockeys.")
Now why am I talking about men's underwear? Well, why not? Maybe Jeff or Warren will write a post about pantyhose one of these days.

– Lucy
From  gq.com