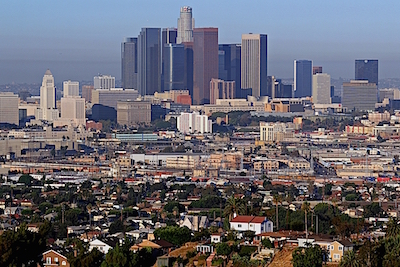 A few weeks ago, I was planning to spend an afternoon and evening with a visiting Russian student. He asked me to suggest what to do, so I gave him two choices: we could stay along the coast (where the land meets the ocean) or we could go to downtown Los Angeles. "What," he asked, "and where is downtown Los Angeles?"
Good question. Usually, when we talk about downtown, we're referring to the center or main business part of a city. In contrast, the suburbs are areas away from the center of a city where people live.
When you're talking about Los Angeles, though, the downtown/suburb contrast doesn't tell the whole story. For one thing, downtown isn't in the center of the city.
Many years ago, someone described Los Angeles as "…72 suburbs in search of (looking for) a city." The reason is that much of the area that we now know as Los Angeles was made up of many smaller towns in the past. Those towns grew until they connected with other towns around them and, eventually (after a time), with Los Angeles to become the large city we have today. Hollywood, for example, was once a small community (an area where people live) that merged with (became part of) Los Angeles in 1910.
Today, most people agree that downtown Los Angeles includes a small area framed (surrounded) by the 101, 10, and 110 freeways (a wide road designed for fast travel). And that's where my student and I decided to go.
If you'd like to see some of the highlights (most important or interesting parts) of our time downtown, you can do that by going to the Downtown Los Angeles Walking Tour web site and click on the maps to move from one place to another. We visited parts of the New Downtown (ND) and the Historic Core (HC). Here are the highlights:
Pershing Square (HC)
The Biltmore Hotel (ND). This was the largest hotel in LA when it was built in 1923.
The Central Library (ND), across Grand Avenue from the Biltmore, a historic building with modern touches (details or additions).
The Bunker Hill Steps (ND) take you to the top of the hill and the historic center of the old financial district.
The California Plaza (ND)
Angel Flight (ND)
The Grand Central Market (HC) and Bradbury Building (HC). The Bradbury, built in 1893, is one of the oldest buildings in downtown LA.
The Westin Bonaventure (ND) hotel, a good place to go after the sun goes down for lattes (strong coffee drink with steamed milk) in the revolving (turning in a circle) lounge (place to sit and relax) at the top of the hotel.
Hope you enjoyed downtown Los Angeles as much as we did! And I hope you can experience it for yourself sometime soon.
~ Warren Ediger – ESL coach/tutor and creator of the Successful English web site.
Photo courtesy of Wikipedia Commons.