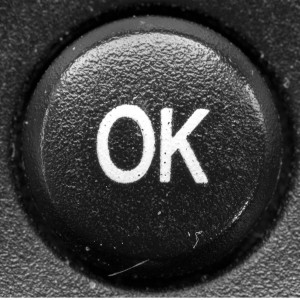 One of the most useful words you can learn in English is "OK" (also spelled "okay"). It can be used for many things.
It is probably used most often to mean agreement – that you agree with someone:
Jeff: Let's leave work early today and not tell the boss.
Lucy: OK!
It's also used to acknowledge that you heard or understood something:
Jeff: We'll need to record 60 more scripts before the end of the day.
Lucy: OK.
In one of its most confusing usages, OK can indicate the quality of something. It can be used to mean that something is good enough or acceptable.
Lucy: This cheese is old, but there isn't much mold (furry green and black stuff that grows on old food) on it. I think it's OK to eat.
Jeff: I think I'm going somewhere else for lunch.
Or, in contrast, it is used to say that something is just so-so or not very good in quality, something mediocre. When used in this way, we often include the word "just" before it.
Lucy: What do you think of my singing?
Jeff: It's just OK. You might consider taking up (starting as a hobby) dance instead.
There are even more ways to use OK, but these are perhaps the most common.
Considering how much Americans rely on the word "OK," it's surprising how much disagreement there is on its origin (where it came from). In fact, there are many theories (explanations or guesses based on information), and some people think we still don't know. But one man spent many years trying to find out and thought he found the answer.
Allen Read, who died in 2002, was an English professor at Columbia University in New York City. He studied the English language for over 30 years, and while he wrote and published several books and many articles about many different aspects of American English, he always returned to the question of where "OK" got its start.
Some people believed that the term OK came from the name of a brand of cracker (thin, crisp food usually eaten with cheese or other foods) the U.S. government supplied (gave) to the Union or northern soldiers during the American Civil War (1861-1865). Others believed that it came from the name of a key (something you press on a machine so something will happen) – called an "Open Key" – on a telegraph machine, a machine used in the old days to send messages through wire. Both of these explanations were possible, in Read's view, but then he came across (found) an even earlier mention of OK.
In an 1839 Boston newspaper, Morning Post, Read saw a satirical article about bad spelling. (Satire is the use of humor to show people's mistakes or stupidity). "OK" was used in the phrase "Oll Korrect," a misspelling of "All Correct." Read believed that he had found the first use of OK and published an article in 1964 about his discovery.
Incidentally (in addition, although it is not directly related to what I've just said), you may also hear the term "A-OK." A-OK means everything is fine, conditions are good, or there are no problems. This version of OK was first used by people involved in the space program (program for space travel), but became more generally used over time. Today, while it's not very common in daily conversation, you may still hear it used occasionally.
OK, that's all I have to say about "OK." I hope that was an OK explanation and that you're all A-OK!
– Lucy
Photo Credit: from Wikipedia