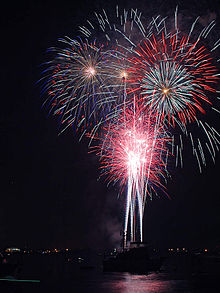 It's nearly here. The year 2014 is coming to a close (end) and we're getting ready to welcome 2015. At parties and get-togethers (informal social events) this week, we'll be hearing a lot of people ringing in (welcoming) the new year with a toast.
We're all familiar with toasts. When we're at a celebration, such as a wedding reception (party after the marriage ceremony), people offer a few words of good wishes, asking the guests to raise (lift up) their glasses in celebration. Most toasts begin with the word "May," as in "May the newly married couple live a happy and long life together."  "May," in this case, expresses our wish or hope that something will happen.
It is also common to begin a toast with Here's to, as in "Here's to all of the people who helped us make this event a success" or "Here's to ten more years of our company's success."  In this case, "Here's to" means "I'm offering these words or wishes to [something or someone]."
And on New Year's Eve, the day before the first day of 2015, many people will be offering toasts to each other, wishing good things for their friends and family. Since you are all part of the ESL Podcast family, I thought I'd present a few toasts to you.
May all your troubles last as long as your New Year's resolutions.
~Joey Adams
Joey Adams was an American comedian (person whose job is make you laugh) and writer. He was born in 1911 in New York. He wrote for newspapers, published 23 books, and had a long career in comedy.
Your troubles are your problems, the things that bother you or that cause you problems. Resolutions are the promises we make to ourselves to do things differently or better in the future. We all make New Year resolutions, and as Joey Adams points out, we don't always keep them for very long.
Here's to being single, drinking doubles, and seeing triple.
~Irish toast
This is a traditional toast from Ireland.
Being single means to not be married and to not have a girlfriend or boyfriend. If an alcoholic drink is a double, it contains more alcohol than a regular drink, which we do not call a "single." (It's just called a regular drink.) Sometimes a "double" has twice (two times) the alcohol than in a normal drink, and sometimes it's just a little more alcohol than usual. It depends on the bar, the place serving the drink.
When we're under the influence of (have drunk or have taken) alcohol or drugs, our vision or sight is often not very clear. We call this seeing double. This toast mentions "seeing triple," with triple meaning three times, so this is just a joke meaning that the person offering the toast hopes you're having so much fun that you see a lot of strange things.

May your troubles be less and your blessings be more and nothing but happiness come through your door.
~Irish toast
Finally, this is another traditional toast from Ireland. I won't say anything about the Irish and drinking, but I think we all know where our favorite Irish American podcaster gets his gift of gab (ability to speak easily and well).
We've already talked about "troubles." Blessings are the exact opposite. "Blessings" are the good things in our lives that we feel grateful for or happy about. Some people may consider their children or good friends a blessing. In some religions, a "blessing" also refers to God's protection and help, so someone might say, "I hope that our new project has God's blessing."
And now my own toast to you:
May you all improve your English faster than you thought possible, speak like native English speakers, and not care if you don't.
On behalf of (representing) all of us here at ESL Podcast, have a happy New Year and a wonderful 2015!
– Lucy
Photo Credit:  From Wikipedia