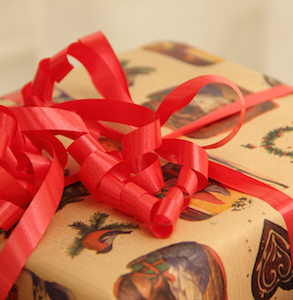 In 1933, there were not many gifts under Christmas trees in Canton, Ohio. The Great Depression had taken most of the joy and much of the hope out of Christmas. Jobs were hard to find. And the jobs that people found didn't pay much. Many people in Canton, and other American cities, struggled (tried extremely hard) to survive (continue to live normally).
Eight days before Christmas, an advertisement written like a letter appeared on the front page of the Canton newspaper. Here's what it said (in my words):
What if I couldn't find food for my family to eat tomorrow. Would I accept help from a welfare organization (one that helps needy people)? I don't think so. I would be too embarrassed (worried about what people think). And I know that many of you feel the same way.

If you're in a situation like that, I would like to help so that your family will be able to spend a merry and joyful Christmas. I don't want anyone to know my name, and I will never tell yours.

Please send a letter to B. Virdot, General Delivery, Canton, Ohio. Tell me about your situation, and I will send you financial aid (money to help) without delay (as soon as possible).
During the next few days, 150 needy Canton families received checks for $5 – almost $100 in today's dollars.
No one knew the full story of the mysterious B. Virdot and his anonymous (without a name) gifts until 2008. That's when Ted Gup's mother gave him an old suitcase. When he opened it, he found a stack (pile) of letters written just before Christmas in 1933.
In his letter, Harry Stanley, who hadn't worked for two years, said he hoped to give his five children a good Christmas dinner. Ruby Blythe didn't want anything for herself. She wanted to help her neighbor whose children didn't have clothes for school and would have only bread for Christmas dinner. One after another, the letters Gup read described the needs of good people who wanted to care for family, friends, and neighbors but couldn't because of the Depression.
Gup also found a stack of canceled (used) checks – all for $5 and signed by B. Virdot. And he discovered something else: B. Virdot was his grandfather, Samuel Stone. He had made up the name B. Virdot so no one would know who he was.
Stone was not a wealthy man. His Jewish family had escaped persecution (bad treatment of a group of people) in Romania 30 years earlier and come to America. His secret gifts were his way of saying thank you to the people of Canton and America for accepting their family when they were needy.
Gup, a writer and professor of journalism, spent the next year looking for and sharing the stories of the letters with the families of people who had received his grandfather's checks. He also wrote a book – A Secret Gift – that tells the stories.
Gup learned that one person who had received a check was still alive. When he asked Helen Palm if she remembered, she replied, "Oh my God! You better believe it!" Palm bought herself a pair of shoes: her old ones had holes in the soles (the bottom of a shoe). And she bought gifts for her brothers and sisters and took her parents out for dinner.
Gup says his grandfather knew that his gifts couldn't change much. But, he writes, "[my grandfather] had learned from his own hard life that even the most modest (small) of offerings (gifts) can provide the gift of hope and the knowledge that someone cares."
You can learn more about the story of B. Virdot by viewing the CBS video story Secret Great Depression Benefactor Revealed.
—————-
Jeff, Lucy, and all of us who help with the podcast, blog, and website wish all of you a wonderful holiday season!
—————-
~ Warren Ediger – ESL coach/tutor and creator of the Successful English web site.
This story is adapted from Meet B. Virdot, the Mysterious Christmas Benefactor by Ted Gup.
Photo used under Creative Commons license.