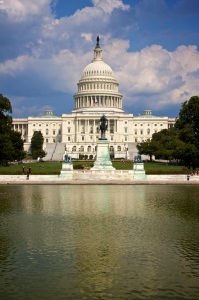 Question: What's the difference between capital and capitol?
Answer: I'll answer this question with a little story.
In many American elementary schools (schools for children ages six to twelve), it's very common for students to memorize the names of the U.S. state capitals. The capital of a state is the seat or home of that state's government, where you will find the main government offices for that state. Here in California, the capital is Sacramento. Where I grew up, in Minnesota, the capital is St. Paul. Each of the 50 states has its own capital.
When I was in third grade (about eight years old), we had a contest (competition) in my school to see who could memorize all 50 state capitals the fastest. As soon as I heard about it, I thought, "Well, I have to win this contest!" So, I went home and I started memorizing the names of the state capitals.
After a week or so (approximately one week later), I went to the teacher and said, "I think I'm ready." She gave me a piece of paper with the names of the states and I had to write the names of the capitals. I got them all correct, and won the contest. That victory (win) still stands as (still is) the greatest academic achievement of my career.
And what was the prize I received for being the first third grader to memorize the state capitals? One quarter – twenty-five cents.
Now, to make things even more confusing, there's another related word, capitol, spelled with an "o." Capitol is used to describe the building where part of the state government meets and has its offices (usually the part we call the legislative branch, the elected representatives). Each capital (city) has a capitol (building).
But wait! We're not finished yet. You see, we can also say that building a capitol in a state's capital requires a lot of capital.
This last use of capital refers to the amount of money you have to invest in or start a business, or just to do some large project. We use the same word, capital, for two different concepts – the seat of government and money to build or do something.
But perhaps these two meanings of capital aren't so different after all. I mean, if you want to get elected so that you can work at the capitol in your state's capital, you're going to need a lot of capital.
~Jeff
Photo credit: Capitol Hill and Reflecting Pool, Wikipedia