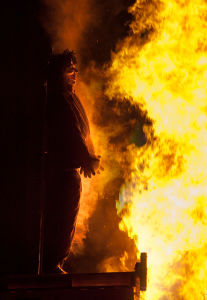 If you speak to an American, before long (very soon) you'll probably hear him or her use the word "guy." That's because we use it all the time in conversation.
When the noun is singular — "guy" — it's used to refer to a man.
"What is that guy doing over there?"
"While waiting for her friends at the cafe, Shayla met a guy named Liam."
When it's plural — "guys" — it can be used either to mean more than one man, as in:
"Do you think there are more guys who are fans of football than women?"
"Can you get a group of strong guys to help us move this piano?"
Or, "guys" can mean more than one person of any sex — men or women, boys or girls:
"Okay guys, we need to finish this project this afternoon or else we'll have to work over the weekend."
"Do you guys want to come over to watch a movie tonight?"
There is some debate about whether "guys" can be used for a group of all girls or all women, though I would not hesitate to use it this way and would not be surprised or feel strange to hear others use it this way.  To make sure this isn't a gender (men/women) difference in usage, I asked Jeff and he agreed.  He would use the term "guys" with a group of all girls or women. too.
This usage of "guy" can be confusing for English learners, but you'll hear the word used all the time by Americans. Surprisingly, though, the origins of the word may have darker (unhappy; unpleasant) beginnings.
Some people believe that the word "guy" has it origins (beginnings) in the name Guy Fawkes. In England in 1605, Guy Fawkes and his conspirators (people who shared a secret plan) attempted to assassinate (kill, usually an important person) the English king at the time, King James I. The plan did not succeed and Guy Fawkes was captured (caught).
To this day, on November 5th of each year, England celebrates the foiling (ruining) of this plan by burning an effigy (likeness; rough model of a person) of Guy Fawkes and having fireworks (explosions of lights in the sky) and bonfires (large, open fires, usually for entertainment or celebration). The word "guy," over time, became a derogatory (insulting) slang word for a man, especially a poorly dressed one.
At some point, the term made its way (traveled) to the United States, and over time, lost its negative connotation (association) and became a general term for men or people. I would bet that most Americans do not know or suspect (guess) that there is any connection between this ubiquitous (found everywhere) term and a 17th century English plot (secret plan to do harm).
– Lucy
Photo Credit: From Wikipedia