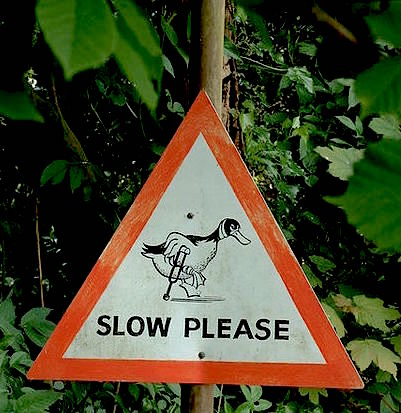 "This week, the lame ducks are returning to Congress for their last bit of legislating (making laws). But no one seems too excited to see them." That was the lede (or lead; the first sentence or paragraph) for a news story in the Washington Post last week.
Other newspapers and websites echoed (repeated) those feelings in their headlines (the title of a news story):
Lamest Lame Duck (Politico)
How Lame Will The Lame Ducks Be? (The Atlantic)
Don't Let Lame Ducks Spend Your Money (American Spectator)
We all probably know what a duck is. But, a lame duck? If you know the word "lame", you might say that a lame duck is a duck that can't walk because its foot or leg is weak (not strong) or injured (hurt) – like the duck in the photo.
You'd be right, but in politics, "lame" means something different. Let me try to explain. In the U.S., our national elections (when we vote) are always early (near the beginning) in November. But the president and Congress – members of the Senate and House of Representatives – don't take office (begin work) until later, in January. Each session (work year) of Congress begins on January 3rd, and a new president takes office on January 20th.
Do you see the problem?
Between election day and January 3rd or 20th, people who were not reelected (elected again) have to go to work, but they have no real power because their jobs will soon end. In a very short time, someone else will have their job. These people are the lame ducks.
An American newspaper first used the word "lame duck" this way in 1863 during our Civil War. In 1932, Will Rogers – an American cowboy and a very funny man who became a popular performer and writer – suggested his own definition. He wrote that a lame duck Congress is "like where some fellows (men) worked for you and their work wasn't satisfactory (good enough) and you let 'em (them) out, but after you fired (told them they had to leave their job) 'em, you let 'em stay long enough so they could burn your house down."
This situation may seem strange to people from countries where politicians begin their terms (time in political office) shortly (very soon) after they are elected. But it's actually better in the U.S. today than it used to be. Before 1933, the president and Congress began their terms in March. The 20th Amendment (change) to the U.S. Constitution (the highest law of the government) moved the beginning of the terms to January, where they are today.
I guess you could say that we haven't eliminated (gotten rid of) the lame ducks, but we have shortened their lives.
~ Warren Ediger – ESL coach/tutor and creator of the Successful English web site, where you'll find clear explanations and practical suggestions for better English.
Information source: Washington Post.
Photo (edited) courtesy of Wikipedia Commons.