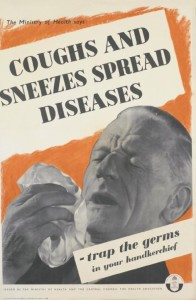 Howie Mandel is an actor and game-show host who is famous for being a germaphobe, someone who has an irrational (not logical; not based on fact or reality) fear of germs (very small things that cause disease).*
A phobia is a fear of something, and someone who suffers from that fear we often call a "[feared thing]+a+phobe." Hence (therefore), a "germaphobe" is someone who fears germs.
Germaphobes would, for example, prefer to do a fist bump rather than shake your hand when they greet (say hello or meet) you.
In the past, people have given Howie Mandel a hard time (criticized him or bothered him about it), but Mandel knows what he's doing. According to recent study, a handshake (putting your hand into someone else's hand to greet them) is 10 to 20 times more likely to transmit (pass from one person to another) germs than a fist bump.
So if you want to cut down on (to reduce) how many colds, bouts (instances of) flu, and similar illnesses you get this year, you need to keep your hands to yourself, especially in your workplace.
In another recent study on how germs are transmitted in offices, researchers looked at how germs spread (moved to a wider area) in one office building with 80 employees.
Using a virus that doesn't cause illness but that is similar to ones that do, the scientists infected a push-plate door (door that is opened simply by putting weight on a metal plate, with no door handle) at the entrance to the building. Within two hours, the virus had spread to areas most employees touched, such as items in the company kitchen — such as coffee pots and microwave buttons — and parts of the restrooms.
Within four hours, the virus was detected (found) on the hands of 50% of employees in the office!
Some people suggest using hand sanitizer (liquid put on hands to kill germs) and disinfectant wipes (tissues with liquid that kills germs), which do seem to reduce viruses. But others warn that hand sanitizers and disinfectant wipes kill good bacteria (germs) along with bad bacteria, and good bacteria is important for fighting bad germs.
So what should you do? Well, Lucy has told you how to avoid getting sick with food that hits the ground.
My advice on avoiding getting sick at work is simple: Don't work for a company that allows scientists to secretly put strange germs and viruses in your office as part of some weird experiment. If you do that, and don't touch anything at work, you'll be just fine.
– Jeff
* The technical term for the fear of germs is mysophobia, but I have hellenologophobia (fear of technical words, especially those that come from Greek), so I won't be using that term here, except of course to write "hellenologophobia."
Image Credit: From Wikipedia