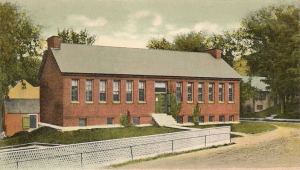 "Time is money" is an old saying in English, meaning of course that your time is valuable. The time you spend doing one thing is time you are not spending doing something else, something that might give you more money or benefits.
Most of us don't think about the time it takes us to travel to places as being part of the "price" or cost of using their products or services. For example, if you want to borrow (get something from another person to use temporarily) a book from a public library in the United States, you don't need to actually give any money to the library. The book is "free."
But is it really free?
In order to borrow a book (and I'm talking now about paper books, not an electronic ones), you have to get in your car, get on the bus, or walk in order to get to the library. The trip therefore costs you both time and, if you drive or take a bus, money. And since time is money, we can think of the effort of going to the library in all cases as a having a certain "price."
So borrowing a "free" book from the library does in fact cost you something. Now, generally speaking, the more expensive something is, the less likely you are to buy it. As price increases, sales (things sold) decrease.
This means that if you live a very long distance from the library, you are less likely to pay that "price" to use it, and will therefore borrow fewer books.
Studies on public library use have found exactly that: the farther (greater distance) you lived from a public library, the less likely you are to borrow and read books from the library.
Communities that have more (and better) libraries do, in fact, read more, and children in those communities do better at reading in school! The reason is simple: when you lower (decrease) the price of something, more people will "buy" it. Living closer to a library decreases the cost of using it, and increases your likelihood (chance; possibility) of using it.
This relationship holds true (is true) for many different kinds of services. A recent article in Time reported on the average (typical) distance Americans live from certain kinds of people, businesses, and services. The article didn't mention this relationship between access (the ability to get to or to use something) and the amount that people visit these places, but it is interesting to think about how the "price" of getting to these places influences how much they are used.
Here are some typical distances found in the article that are true for at least 50% of all Americans (distances are given sometimes in miles, sometimes in minutes needed to travel by car):
Mom – 30 miles. This is true for married Americans, and means that the average (married) American lives within 30 miles of his or her mother.
>> I live 1,985 miles from my mother, since I'm in California and she's in Minnesota.
Body of water – 60 minutes. This would include living near a lake or an ocean.
>> I live eight minutes from a body of water (the Pacific Ocean).
Starbucks – 20 miles. This is true for 80% of Americans, but the distance is much closer for those living in big cities like Los Angeles.
>> My nearest Starbucks is 1.1 miles from my house. There are more than 25 Starbucks within just five miles of where I live, and probably close to a hundred within 20 miles!
YMCA – 5 miles. The YMCA is a well-known, low-cost place with gyms and swimming pools.
>> I live 2.6 miles from a YMCA.
McDonalds – 3 miles.
>> I live 2.3 miles from a McDonald's, very close to the national average. But I almost never eat there, so here even a low price doesn't get me to buy!
Gun Dealer – 10 miles. A gun dealer is a person or store that sells guns for hunting or other uses. An amazing 98% of all Americans live within 10 miles of a place that sells guns.
>> I don't know how many miles I live from a gun dealer, and hope I never need to get a gun!
How far do you live from your Mom, a Starbucks, and a McDonalds?
~Jeff
Image credit: Town Library, Petersborough, New Hampshire, site of the first free public library in the United States, Wikipedia