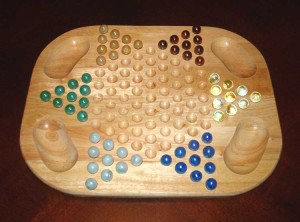 Growing up, I enjoyed playing board games, games you play with other people on a board, usually a hard piece of thick paper or wood with pictures, words, or drawings on it. I liked playing popular games like Monopoly, a board game where you travel from space to space on a square board with the goal of collecting, trading, and accumulating (adding) more and more properties or land. Also popular in our house was a game called Sorry!, a similar board game using dice (small squares you throw with dots on each of the six sides, from one to six).
But my favorite board game was always Chinese Checkers, a game where you move marbles (colored balls of glass or plastic) strategically (with a plan or purpose to win) across the board to your opponent's (person you are trying to defeat in a game or battle) territory or area. (The game was actually invented (created) in Germany and got its name — Chinese Checkers — from a U.S. game-maker because of the pictures painted on the board.) My brother and sisters and I spent many hours trying to defeat (beat) each other.
But with the advent (invention and arrival) of video games, the popularity of board games waned (went down; decreased). Even in our house, when my mother brought home an early video game console (machine into which individual games can be placed for playing), we spent less time playing board games and more time trying to shoot aliens (beings from outer space). Today, over 60% of people in American homes play some form of video game, and over 50% own a game console, according to one report.
However, I also read an article recently that board games may be getting a second wind (becoming popular again), especially among the generation (people born in approximately the same years) called Millennials, who are now between the ages of 18 and 32.
They're not playing the old games, but new board games that involve strategy, many using the same skills they may use in video games. Many meet in each other's homes or at cafes to play. The appeal (what attracts them), they say, is being able to interact with other players and friends in a more relaxed, friendly, and social atmosphere. There's still competition (efforts to win), but it's more likely over a cup of coffee than a game console.
In fact, just last Saturday, I was at a cafe relaxing, reading, and drinking tea in the courtyard (enclosed outdoor area with no roof) where three large tables of people were gathered. Each table was had a different board game being played. One was clearly a trivia game (game asking short questions about facts), but I didn't know what the others were. The players were very animated (showing excitement). Most of the players appeared to be Millenials, with a few older players.
Do you have any favorite board games, especially ones you still play?
– Lucy
Photo Credit:  Chinese Checkers board  from Wikipedia