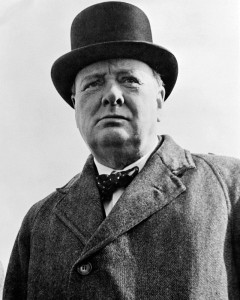 There are several paths (ways) to become a citizen of the United States, most of them requiring many years of waiting and, often, a bit of luck.
I think the most difficult path – one I do not recommend – is to become an honorary American citizen.
When you are made an "honorary something," you are given a title or membership without having to go through the normal process. For example, universities often give celebrities, politicians, and other important people "honorary doctorates," giving them the title of "Doctor" without actually having to do anything. (Some say I got my Ph.D. without really doing anything, but that's not completely true.)
It is possible to become an honorary citizen of the United States, when you are made a citizen without having to apply or fill out any paperwork (forms; documents). Sounds like a great idea, right?
The problem with this path to citizenship is that it has only been done by seven people in the past 200+ years. And, according to the U.S. State Department, being named an honorary citizen does not give you a U.S. passport. It's just, well, an honor to be naturalized (made a citizen), I guess.
Who has become an honorary U.S. citizen? Here's a list of those who've been given this honor either by the a U.S. president or by Congress, and the year they were made citizens. Five of the seven were made citizens posthumously, which is a fancy way of saying they were dead already.
Sir Winston Churchill (1963) –  one of the great British Prime Ministers and 20th century leaders. Churchill was actually the very first person to be named "honorary citizen." He was still alive when given the honor. The odd thing about Churchill's citizenship is that his mother was an American, which under our current laws may have made him a citizen anyway.
Raoul Wallenberg (1981) – a Swedish diplomat who saved thousands of Jews from being killed by the Nazis during World War II. His date of death is unknown, but he is assumed to have been killed in 1947, possibly by the Soviets in the then-U.S.S.R.
William Penn (1981) – the founder (person who started) of what later became known as the state (technically, Commonwealth) of Pennsylvania. Born in England, he helped thousands of Quakers immigrate to the then-British colonies during the late 17th century.
Hannah Callowhill Penn (1984) – William Penn's second wife, who helped her husband administer (take care of) the government of Pennsylvania after William had a stroke, and then did it by herself for eight years after his death.
Mother Theresa (1996) – a Catholic nun, born in Albania but later an Indian citizen, who worked with the poorest of the poor in India, and started the Missionaries of Charity. She and Churchill are the only two who were living when made honorary citizens.
Marquis de La Fayette (Gilbert du Motier) (2002) – a Frenchman who fought for American independence during our Revolutionary War in the late 18th century, serving under George Washington as a general in the army. He is usually known just as "Lafayette" (one word) in American history textbooks.
Casimir Pulaski (2009) – Like Lafayette, Pulaski fought against the British in the American Revolutionary War. A native of Poland, he is credited (said to have done something) with saving George Washington's life during the war. (Washington later became our first president.)
Who will be the next person to join these select seven? Some say it will be a Spaniard (someone from Spain), Bernardo de Galvez. Galvez was governor of the then Spanish-controlled territory of Louisiana during the Revolutionary War, and fought (like Lafayette and Pulaski) against the British to help the Americans win the war. The U.S. Congress recently started the process to name him an honorary citizen.
Galvez, of course, is dead, so this should help his cause (the movement to make him a citizen).
~Jeff