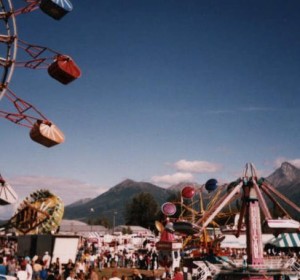 Alaska is known for many things: cold weather, beautiful scenery, and, of course, giant cabbages.
Giant cabbages?!  That's right.
If you want to find a 130-pound (59-kilogram) cabbage, visit Alaska. If you're in the mood for (feel like eating) some cantaloupe, A LOT of cantaloupe, you can find a 65-pound (30-kilogram) one at the Alaska State Fair.
Summer and fall are common times for fairs that feature agricultural (farming) contests, from livestock (farm animals) to crops (plants grown for food or to produce useful products). At the Alaska State Fair each year, you will see some things that you will not see at any other fairs: giant fruit and vegetables.
The secret is the Alaska summer. It's not uncommon in Alaska during the summer to have 20 hours of sunshine per day because of the state's northern latitude (location measured by distance to the equator). These extra hours of sunlight give crops extra time for photosynthesis (the process of green plants using sunlight to get food), allowing plants to grow faster and bigger. More sunlight also produces sweeter produce. It's not surprising, then, that some of the world records (official list of the best) for largest fruits and vegetables belong to growers in Alaska.
Some growers painstakingly (very carefully) cultivate (encourage to grow) large crops, spending years experimenting with different seeds (the part of the plant that allows new growth), soil (dirt used for growing things), fertilizers (substance put on soil to encourage growth), and amount of sunlight. Some even sleep outdoors to protect their crops from foragers (people or animals who travel across a land to find food). For others, these giants (very large things) grow on their own without special effort, surprising their growers.
The Alaska State Fair is going on now until September 1st, so it's not too late to see these freaks of nature (something with abnormal or unusual growth) for yourself. The pumpkins are certainly worth seeing, but the main attraction (most interesting for an audience) are the cabbages.
My wife often makes a cabbage casserole (dish with a mix of ingredients cooked in the oven) for dinner. I wonder how many she can make with a 130-pound cabbage. Perhaps enough for all of the ESL Podcast listeners?
– Jeff
Photo Credit: Alaska State Fair from Wikipedia
* The title of this post is a play on (another version of) the title of a 1978 film called Attack of the Killer Tomatoes.