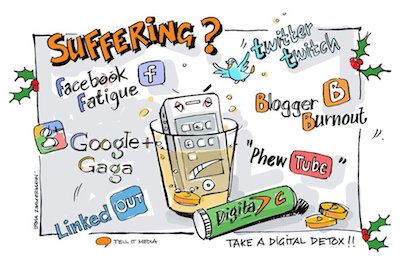 Do you suffer from (have, like a disease) FOMO? Many people do.
FOMO is an acronym (a word made up of the first letters of several words) for Fear Of Missing Out. To miss out on something is to not have the opportunity to do or experience it – for example, I missed out on the party because I had to work.
People who suffer from FOMO have a constant (all the time) desire or need to to be plugged in (connected to the Internet). Even when they're with other people, they keep their phones or tablets close at hand (nearby). They feel the need to connect with their friends on Facebook. Check their email. See what's happening on their Twitter feed. If they can't or don't, they get anxious (feel nervous, worried).
Being connected digitally (using the Internet) can be a good thing. But for people who suffer from FOMO, the need to be constantly connected can have a downside (negative or undesirable effect). It can easily hurt their mental health and relationships with other people.
Several years ago someone came up with an idea, called Digital Detox, to help people who feel the need to be constantly connected. More than 300 million people have tried it.
The idea behind Digital Detox is very simple – set aside (schedule) a specific time to turn off your phone, tablet, or computer to do things that will contribute to (add to) your mental health and relationships with other people. It's a way to help you free up time for activities and people that are truly (in fact) important.
A writer in Forbes has several suggestions for a successful Digital Detox:
Schedule a specific time and put it on your calendar. Try starting with one day – 24 hours.
Make specific plans. Spend time with friends and family. Go for a bike ride or take a hike (a long walk in the mountains or countryside). Volunteer (do something without expecting to be paid) your time to a person or organization that needs help. Find a quiet place to read a book.
When the day comes, turn off your phone, tablet, and computer. Begin immediately to do what you planned for the day. Don't turn your devices back on until the end of the day.
Enjoy the activities you planned and the people you wanted to spend time with. Relax. Take your time (don't hurry).
Do it again! Don't do a Digital Detox only once. Do it every week or every month. Make it a habit (something you do regularly).
What do you think? Is it time for you to try a Digital Detox?
* Detox; also detoxification – medical treatment for an addiction (not being able to stop doing or taking something that is bad for you).
~ Warren Ediger – ESL tutor/coach and creator of the Successful English web site, where you will find clear explanations and practical suggestions for better English.
Photo courtesy of Tell IT Media.