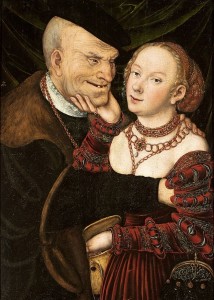 If you walk — actually, you'd more likely drive — around Los Angeles, you'll notice one thing: a lot of successful and wealthy-looking older men with beautiful young women.
No, that's not his daughter. It's probably his girlfriend or trophy wife.
A "trophy" is a statue or cup, often made of metal or heavy stone, used as a prize in a contest. If you are the winner, you can show other people your shiny (bright; reflecting light) trophy for them to admire. A trophy wife is a wife whom a man marries as a sign of his success, a beautiful decoration more than a partner in life.
This is true everywhere, right? Successful men marry trophy wives, right?
Not according to a recent study looking at how couples are matched across the United States. By looking at a nationally-representative sample (smaller group that reflects the characters of a larger group or population), a researcher at the University of Notre Dame found that attractive women didn't mainly (usually) marry wealthy men. Instead they choose attractive men. Overall, she found that attractive men married attractive women, and successful men married successful women.
But how do you account for (explain) all of those successful men with beautiful wives?
The researcher, Elizabeth A. McClintock, concluded (said based her results): "[O]n average (generally), high-status men do have better-looking wives, but this is because they themselves are considered better looking — perhaps because they are less likely to be overweight (fat) and more likely to afford (have enough money for) braces (devices put on teeth to straighten them over time), nice clothes, and trips to the dermatologist (skin doctor), etc."
You often hear people say that Hollywood (the TV and movie business) is out of touch with (not having the knowledge or understanding about) regular people in the rest of the country. For evidence of this, you don't have to look far to find trophy wives on TV or in films.
So instead of reflecting life in the U.S., Hollywood may simply show what life is like in — well — Hollywood!
– Jeff
Image photo: from Wikipedia