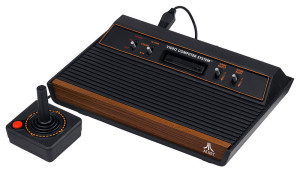 The television and movie industries (businesses) have long worked to elicit (get a reaction from) a viewer's emotions (feelings), knowing that the more emotionally invested (feeling like you have something to gain or lose) or engaged (involved) in the story you are, the more likely you are to continue watching or to watch again. The video game industry knows that, too.
Long gone (no longer here) are the days when video games were just about shooting (using a weapon, like a gun) people and things to rack up (accumulate; add) points. Video games today, I am told, still cater to (are designed for) players' desires to hunt (look for things to capture or kill) and hit, but that's not all players do. For example, some games allow players to save and protect others from harm by using their own fighting powers and skills, letting players feel a sense of heroism (having shown bravery).
According to a video game research company, these are the types of games that gamers say are the most emotionally powerful:
| | | |
| --- | --- | --- |
| Role playing games | | 78% |
| First person shooters | | 52% |
| Action | | 49% |
| Adventure | | 48% |
| Fighting | | 39% |
Role-playing games that allow players to develop or assume (take on; adopt) the identity of a different person are particularly good at eliciting emotions, because of the complexity (many parts) of the story, the way the scenes (settings and situations) are introduced, and the musical scores (music used during a TV show, film, or game) that bring drama to situations.
Now, video game players want to find ways to read (detect) a player's emotions and allow those reactions to help direct (set the direction of) the game.
Some of these new game consoles (devices that play different games) have devices that can look at players' faces and read their reactions. Other devices being developed will be able to read a player's physiological (related to the body) reactions, such as heart rate (how fast your heart is beating), breathing rate (how quickly you're breathing), and temperature. Those reactions then change how the game reacts, which video game makers hope will make the game-playing experience more real and interesting for each player. (If you're skeptical about (not believing) a computer's ability to read people's emotions, take a look at this report of a recent study showing that some computers may be better at interpreting people's emotions based on facial expressions (how you move the muscles in your face) than humans are.)
I haven't played a video game since I was 17 years old, which was, well, a very long time ago. I am of an age (old enough) that no one I know plays videos games, either.
Do you play video games? If you do, do you think games today are getting better at eliciting people's emotions such as pride (feeling proud of yourself), anger, pity (feeling bad for others in bad situations), and horror (feeling afraid)?
– Jeff
Photo Credit:  Atari 2600 Wood fromWikipedia