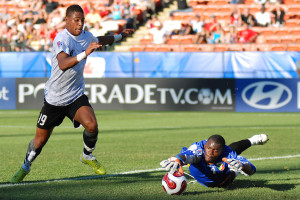 Americans and Brits have a love-hate relationship (unclear feelings about each other). We love the British and the British hate us.
This is evident (clear) if you watch any British drama shows. Americans are portrayed as (shown to be) loud, brash (aggressive in a rude way), demanding (wanting things now and at a high standard), swaggering (walking and moving as though we think we are better than other people), rich and ostentatious (showing what you have to impress others), and boasting (saying you are great). I could go on and on (continue) — I know some Brits would be happy to — but I think you get the idea. To be honest, I really can't blame them. If you've ever encountered (met) an "ugly American" traveling abroad (overseas), you'd feel the same way, too.
On the other hand, Americans love the British, especially the English, and we portray (show) the British in a very different way in our movies and TV shows. Generally speaking, British characters are well-mannered (behave well toward others), highly literate (read and write very well, knowing the great authors and are well-informed), elegant (graceful and stylish), and sophisticated (have good taste). Americans believe the Brits to be all of those things we are not, and we want to be like them.
Perhaps that's why here in the U.S., big-city literati (highly-educated people who consider themselves well-read (well-informed about literature and important ideas)) are turning into soccer fans. These Americans follow British teams and gather at bars (places of business where people gather to drink alcohol and to socialize) — or "pubs" to the Brits — to watch games on big-screen TVs.  And, they've started calling "soccer" by the British name, "football," and referring to the field where the game is played by the British term, "pitch."
All of this is rather silly, in my opinion, and may backfire (have the opposite effect). All we need to do is look at the history of the terms "football" and "soccer" to see why.
The term "soccer" is actually a British term. It was developed in the 1800s to distinguish the sport of soccer, officially called "association football," from other similar sports, such as rugby football. It was also useful in the U.S. to distinguish this sport from "gridiron football," the sport that most Americans associate with the term "football."
For some years in Britain, both terms — "soccer" and "football" — were used interchangeably (one for the other, without any difference in meaning). However, the Brits in the end preferred "football" over "soccer." Why? Because Americans were using the term "soccer." They didn't want to associate themselves with us then, and they may not want to associate themselves with us now.
That's why I say Brit-loving Americans may find their embrace (acceptance and love) of soccer/football backfiring. The Brits may, once again, find it so distasteful (unpleasant; disgusting) to share terms for a beloved (much-loved) sport that they will come up with (invent; create) entirely new terms to thwart (oppose; prevent someone from achieving their goal) us annoying Americans.
– Lucy
Photo Credit from Wikipedia