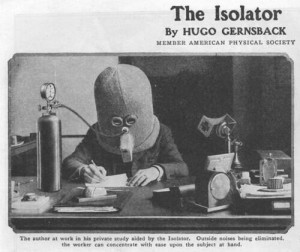 At universities and research organizations today, there is a very common buzzword (a word or phrase that has become popular, like a slogan): collaboration. Collaboration refers to working with others to share ideas, with the aim (goal) of creating something better.
Some scientists, however, are pushing back (resisting). They say that collaboration on the scientists' own terms (done when they want to, in the way they want to) is fine, but what some call "enforced interaction" — working and communicating with others when you don't want to — might actually be standing in the way of (preventing) scientific progress.
An organization called Silences of Science was formed (started) to push back against this trend for collaboration and constant communication. Its website says that it "aims (tries) to remind the research community of the creative importance of silence, of interruptions in communication, of isolation and of 'stuckness'." Isolation refers to being alone, away from other people. Being stuck means feeling like you can't move forward because you don't know how to solve a problem.
A recent article cited (reported) the case of Peter Higgs, the 2013 winner of a Nobel prize for his work on the the Higgs boson, work done primarily (mainly) in the 1960s. Higgs said that the peace and quiet he had to work in those days no longer exists today.
Felicity Mellor, one of the co-founders (one of two or more people who began the organization) of Silences of Science and a professor at the Imperial College London, says that Albert Einstein and Sir Isaac Newton also liked to work alone. Newton in particular (especially) liked to shut himself away (close the door and not see others) and work in isolation. He showed his work to very few people and only published his work reluctantly (without really wanting to). In fact, he only published Principia, his three-volume (three book) work with the laws and theories he's known for today and regarded as (seen as; believed to be) one of the most important scientific works in the history of science, after much urging (others saying he should).
Other researchers have talked about the importance of what Cal Newport calls "deep work": periods of very focused concentration when your most important and creative work gets done. Deep work cannot be done when other people are talking to you or in a meeting. It can't happen when you're constantly checking your Facebook page and watching cat videos on YouTube. It requires silence and, more often than not, isolation from the environment around you.
When do you get your most important or creative work of the day done?
– Jeff
*Caption below the photo says: "The author at work in his private study (office) aided by (helped by) The Isolator (that thing over his head!). Outside noises being eliminated, the worker can concentrate with ease (easily) upon the subject at hand (what he's working on )." I'm going to get myself one of those soon.
Photo Credit: Study Hacks, a blog by Cal Newport