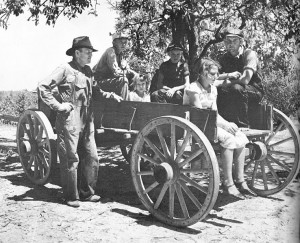 The term "boomerang kids" refers to adult children who move back into their parents' house after a period of living on their own. (This is a boomerang, which when you throw it, returns to you.)
Traditionally, Americans expect to finish their schooling (high school or college), get a job, and then move out of (leave) their parents' home as soon as they become financially independent (able to pay for their own living expenses). Unlike in other countries where it is common for adult children to live with their parents until they marry, or even after they are married, in the U.S., adults living with their parents after graduating and getting a job is not the typical pattern (the most common way something is done).
However, things may be changing. The current generation (group born around the same time) of young adults are being called the "boomerang generation" because the lack of (not enough) jobs has driven (caused) many of them to move back in with their parents, after having lived on their own while in college or after getting a full-time job. Fewer parents are experiencing what we sometimes call an "empty nest," a home where the adult children leave and only the parents remain. (A nest is a "home" for birds, like this.)
In a study conducted by the Pew Research Center in 2011, about 30% of people ages 25 to 34 reported that they had moved back with their parents at one time or another. While many of these adult children say that this is a satisfactory (acceptable and good) situation, with over 75% of these young adults saying they liked their living arrangement, sometimes it's not easy for the parents.
Some parents say that it is difficult adjusting to (becoming comfortable with) the return of their children, especially when deciding how much help to give them. In the Pew study, about 50% of the young adults said they pay rent and about 90% said that they help with household (home-related) expenses.
Still (even so), for some parents it is hard to work out (create) an arrangement that is best for everyone in the house. Should their children be required to help with household chores (work around the house)? Should parents be expected to do their children's laundry (clothes washing)?
How does this living arrangement affect the relationships between parents and adult children? About a quarter (25%) of the young adults say that their relationship with their parents has improved, a quarter say it has worsened, and about 50% say it hasn't had any affect either way.
Where you live, is it common for adult children to live with their parents? Has this changed in recent years? If you are an adult, would you want to move back in with your parents? If you are a parent, would you want your adult children living with you?
– Jeff
Photo Credit:  Arthur Rothstein Family in a wagon Lee County, August 1935 from Wikipedia