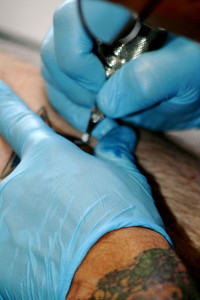 Among some groups in the U.S. today, having a tattoo is becoming more and more commonplace (not unusual; ordinary). A tattoo is permanent writing or drawings made under your skin. Tattoos can be made in almost any shape and size, from a fierce (dangerous; tough fighting) animal or other symbol to words or phrases (often, comically, misspelled or incorrectly written).
About one in five (21%) of Americans have at least one tattoo, up from 16% in 2008, according to a 2012 Harris poll. A separate poll found that among people 18 to 29, the figure (number; percentage) is closer to 40%.
While it's true that tattoos have become more socially accepted in some parts of American society, there's still one place where you might want to keep them covered: the place where you work.
Many employers (company owners or bosses) prefer to hire workers without tattoos. That's almost certainly because, for many people, tattoos continue to carry a stigma (negative views and opinions). According to the Harris poll mentioned above, 45% believed that people with tattoos were less attractive, 27% thought they were less intelligent, and 25% thought they were less healthy.
(Apparently (It seems), companies don't want to give jobs to people who they think are ugly, stupid, and in poor health. For those like me who are all three of things and who don't even have a tattoo, this is very bad news indeed!)
Many workplaces actually have policies for people who want to get tattoos or already have them. The U.S. Army, for example, issued new restrictions (limitations; rules on what is allowed) last year on tattoos. The new rules say that tattoos are not allowed on parts of that body that aren't easily covered, such as the arm below the elbow (where the arm bends) and above the neckline (skin area below the neck and above a shirt). Many hospitals require that employees cover their tattoos, especially ones that may offend (insult) people or frighten children.
Do you have tattoos? Are there rules about tattoos in your workplace? What are your opinions of people with tattoos?
– Jeff
Photo Credit: Tattoo artist with latex gloves from Wikipedia