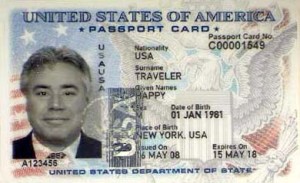 When we think of IDs (identification documents), we often think that having our photo on it makes it impossible for anyone else to use it. That's not necessarily (100%) true.
A study published recently tested how well people spotted (identified; found) fake (not real or authentic) IDs, especially in real-world (true; actual) situations. For example, one place where you want to know if someone is using a fake ID is in an airport security line.
But in that sort of real-world situation, the person looking at IDs is unlikely to come across (see) many fake IDs. The overwhelming (by a large amount) majority of people use their real IDs at an airport.
And that's precisely the problem. According to the results of this study, the less frequently a person comes across a fake ID, the less likely he or she is able to spot one. In the study, when the frequency of fakes was high, the study participants were wrong only 20% of the time. But when there were fewer fakes, they were wrong 40% of the time.
Part of the difficulty in using photo IDs to identify people is that people age (grow older), change their hairstyles, wear glasses or not, or wear make-up or not (cosmetics worn on the face to improve one's appearance). In the study, many of the photos were taken months or years before the time of the study, which also match real-world conditions. In the U.S., many passports and drivers licenses are valid (acceptable by law or rule) for 10 years or more.
I recently renewed (extended the period for) my California driver's license. When I got my previous license, it was good for (valid for) 10 years. I was able to renew my license for five more years using the government website without having a new photo taken. This means that at the end of the five-year period, my picture will be 15 years old. Without plastic surgery (medical procedures to improve my appearance) or a wig, I will look very different and much older than when I first had the picture taken back in the Clinton administration (when Bill Clinton was president of the U.S.).
Who might be good at spotting fake IDs? In other words, what kind of person sees a lot of fake IDs as part of his or her job? One answer will not surprise you: bouncers, people hired by nightclubs and bars to keep out people who are underage (younger than the legal drinking age, usually 21) or who are causing problems. They encounter fake IDs all the time, especially here in the U.S.
Perhaps the solution is simply:  Hire more bouncers as security screeners (people who check documents to be sure that person is safe to allow into a place)!
– Jeff
Image Credit: Passport card from Wikipedia