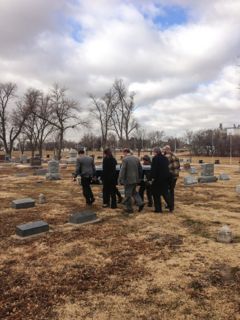 The winter wind blew hard and cold across the Nebraska plains (large area of mostly flat land) last week. And in that cold wind, a small group of people stood together in a small cemetery (where people are buried) on the edge of a small town to say goodbye to a remarkable woman.
Vivian was 103 when she died. She was born in 1910, before World War I, and she lived most of her life in or near the very small town of Eldorado in central Nebraska.
Life was quite different when Vivian was young. They traveled mostly by train or horse and buggy (light carriage pulled by a horse). And there was no high school in Eldorado, so she boarded (rented a room) with a family in a larger town about fifteen miles (24 km) away so she could go to school.
In high school, Vivian took a special course that earned her a certificate (official document) to teach in a rural (not in the city) school. So after she completed high school, she began teaching in a two-room school not far from where her parents lived.
Vivian married her husband Leland in 1935 during the Great Depression. Times were tough (difficult). Vivian continued to teach and received 45 dollars a month. Leland tried to farm (raise crops like wheat or corn) even though the plains were experiencing the worst drought (time without rain) in history. And the winds that usually brought rain clouds often brought towering (very tall) clouds of dust.
While living on the farm, Leland and Vivian had their first three children – two girls and a boy. Vivian writes in her memoirs (written memories of her life) that "Time went on and we had been on the farm six years and never raised a crop. But they were good years and we enjoyed our little family."
After six crop failures, it was time to move on (do something different). Leland became the operator and manager of the local Farmers Coop – a service that delivered gas, oil, and other supplies to farmers in the area. Vivian became the Coop bookkeeper (a person who keeps the financial records for a business).
They bought a house, which had four rooms and a tiny (very small) kitchen, for $350. It was small, but it was theirs. And it became home to their little family, which soon included a third girl. Family members loved to return to that small house – and the house they bought later when they retired – for family gatherings at Christmas and other times of the year.
Today Leland and Vivian's family includes four children, 14 grandchildren, 19 great-grandchildren, and three great-great-grandchildren.
Leland died in 1999 when he was 90, but Vivian lived for 15 more years and continued to enjoy her family. When she turned 100, the entire family gathered for three days of birthday celebration.
Vivian loved her family, and they loved her. She had a great sense of humor (ability to think things are funny). She loved to play games, always played to win, and often did. And if you wanted to know what she thought about something, she was happy to tell you.
Vivian was a devout (having deep religious feelings and commitment) Christian. She was active in her church, read the entire Bible every year, and prayed for her family every day.
When someone once asked Vivian to tell her secret for long life, she replied, "Hating milk, loving chocolate, and God's care."
I was there last week in that cold wind to say goodbye to Vivian. Vivian – who I had the privilege (a special opportunity that gives you pleasure) of calling "Mom" for almost 45 years – was my wife's mother.
~ Warren Ediger – ESL coach/tutor and creator of the Successful English web site.
Photo by W. Ediger