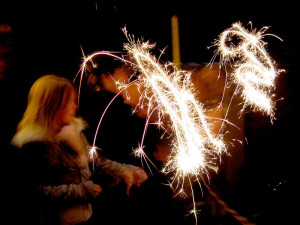 Once again, we are on the cusp of (on the edge of) a new year.
On behalf of the entire ESL Podcast team, we want to take this opportunity to wish everybody who listens to the podcast, reads the blog, receives our tweets, reads our Facebook page, and supports us as members and donors a very prosperous (with wealth and success), joyous (happy), and low-stress (with few worries) New Year. May (I hope that) all your New Year's resolutions be easily achieved or your memory of them fade (disappear) quickly.
Happy New Year to you and your loved ones!
– Jeff & Lucy
Photo Credit: Sparkler moving from Wikipedia