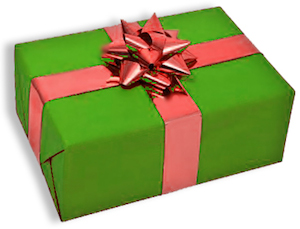 Every year, the same. My great-grandmother always gave me socks for Christmas! And whether I liked them or not, I kept them and wore them, at least occasionally. There was no thought of returning them or exchanging (to give something and receive something different for it) them for something else.
When our oldest son's wife spent her first Christmas with our family about 15 years ago, she was aghast (shocked) when some family members talked about returning gifts they had received.
How times have changed (It's very different now)! Many people return gifts for a refund (to get money back) or in exchange for a different item or the same item in a different size or color.
Today, when you buy something as a gift, it's common for a clerk to ask if you want a gift receipt (a piece of paper that shows that you have paid for something) to make the item easier to return. A gift receipt is similar to a regular receipt but omits (leaves out) certain information, such as the price. It usually has a barcode (a series of lines that a computer can read) that is used to easily identify the transaction (a business action like buying or selling) when the item is returned.
The Internet has made shopping and returning easier than ever year-round (all year), not only at Christmas. An article in The Economist reports that almost 50% of what some stores sell online is returned. The Wall Street Journal says that 33% of all Internet sales are returned and that it's worse during the holidays. This year they predict (say before it happens) that 33% will return at least one gift they receive for Christmas.
Who returns the most gifts? The Journal says that more women (36%) return gifts than men (31%). And, interestingly, about 45% of the people prefer to return a gift by shipping (to send by mail, truck, plane, etc.) rather than taking it back to a store.
How do you feel about returning gifts? Is it acceptable to you or in your culture?
~ Warren Ediger – English tutor/coach and creator of the Successful English web site.
Photo courtesy of Wikipedia Commons