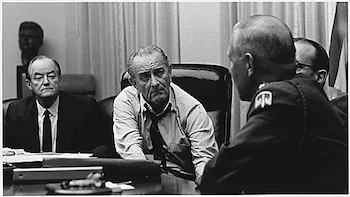 Storytellers with cameras. That would be one way to describe photojournalists, the people who report the news using photographs rather than words.
In the U.S., no photojournalist has a better view of world events than the official White House photographer. He has unlimited access (the right see someone) to the president – and often to the president's family – and goes wherever the president goes. His job, according to Pete Souza, President Obama's official photographer, is to create "a good photographic archive (collection of historical documents)… that will live on" after the president leaves office.
If you ask other White House photographers, they all agree: Yoichi Okamoto, the first official White House photographer, was the best.
Okamoto, who came to be known as "Oke", was born just outside of New York City in 1915 and served (worked) as an army photographer during World War II. After the war, he worked for the United States Information Agency. Okamoto met Vice President Lyndon Johnson on a trip to Berlin in 1961. According to Okamoto, the vice president liked his work and from then on, Okamoto accompanied (went with) Johnson on all of his foreign trips.
When Johnson became president, he asked Okamoto to take some portraits (paintings or photographs of a person) of him. According to one writer, Okamoto told Johnson, "Rather than just take portraits, I'd like to hang around (wait somewhere) and photograph history being made." And that's what he did. Okamoto became President Johnson's official photographer. He often spent 16 hours a day photographing the president with world leaders, members of congress, friends, and family members.
In a recent interview, David Kennerly, the White House photographer while Gerald Ford was president, says Okamoto had a great subject (the person being photographed) – President Johnson – who had to deal with (make decisions and take action) difficult problems, like the war in Vietnam and civil rights. And "when you look at the pictures [Okamoto took], you just feel like you're there" because "he thought and he photographed as a storyteller."
Okamota had a special ability to show the personality of his subjects. In his photographs of President Johnson, you can see the changes in the president's moods (how he felt) and the ways he interacted with (talked with; worked with) the people around him.
There are more than 250,000 photos of President Johnson – the "greatest album (collection of photographs, usually in a book) of candid (informal) pictures ever made of an American president." Most of them were made by Yoichi Okamoto.
You can find examples of Okamota's work online here and here. And there's also an interesting one-hour-long Public Broadcasting System (PBS) documentary on White House photographers.
~ Warren Ediger – English tutor/coach and creator of Successful English, where you will find clear explanations and practical suggestions for better English.
 Photo used under Creative Commons license.