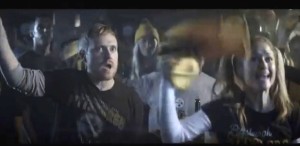 This time of the year friends in the U.S. often gather (come together) at someone's house or in a sports bar to watch Sunday afternoon (American) football and cheer on (encourage) their favorite teams. In a new Bud Light beer commercial, we see these people clapping and waving their hands (moving them back and forth above their heads) or stamping their feet (putting them down loudly) in unison (at the same time). We see them waving towels the color of their favorite team or touching a copy of their favorite team's helmet (hard protective cap).
While you watch the fans (someone who likes a sport or team) in the commercial, you'll hear the narrator (the person who tells the story or describes what is happening) say:
We'll never know if somehow, in some way,

we can affect (influence or change) the outcome (result) of a game.

But when the clock's winding down (the game's almost over)

and everything's on the line (there's a possibility of losing),

we all believe.
At the end of the commercial, a bottle of Bud Light appears on the screen with the words "It's only weird (strange, unusual) if it doesn't work."
What we see in the commercial are a few of the rituals (something you do regularly in the same way) performed by many sports fans to try to bring good luck (make good things happen) to their favorite team. And sports fans aren't the only ones. Many people do or wear things to try to bring themselves good luck or to avoid bad luck.
Do these things work? Do they bring us good luck? Or help us avoid bad luck? Some people insist they do. But many say no. If they don't work, why do them?
Two scientists tried to answer that question recently. They asked a group of students to make a statement – "I will not have a car accident this winter" – out loud (so other people could hear it). Later, they compared (to see how they were the same or different) that group with a group of students that did not make that statement. The students who made the statement believed they were more likely (there was a greater possibility) to have an accident than the second group. In other words, they believed they had jinxed themselves (invited bad luck) by making that statement.
Part of the first group was then asked to "knock on wood" – to hit the top of a wooden table like you would knock on someone's door when you visit them. Many people believe that knocking on wood will help you avoid bad luck. And that's what happened for many of the students who did it: at the beginning they feared they would have an accident; but after knocking on wood, the fear disappeared.
Do actions, or rituals, change our luck? Does making a statement invite bad luck? And does knocking on wood change the bad luck to good luck? Maybe; maybe not. But, according to the scientists, they change they way people feel about their luck. One writer calls them "comfort mechanisms" – little habits (something you often do without thinking) to ease our minds (to make us worry less) and reassure (make someone feel calmer and less worried or frightened) ourselves.
What about you? Do you practice any rituals or wear something special to help bring you good luck or avoid bad luck? Many people do.
~ Warren Ediger – English tutor/coach and creator of Successful English, where you can learn how to "Turbocharge your reading and listening" for better English.
Scene from Bud Light commercial via YouTube.