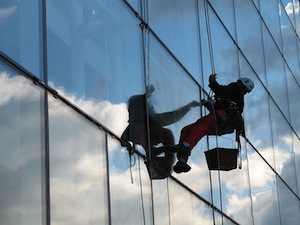 Every workday, Brent straps (fastens) himself into an olive-green harness (set of straps, or strips of material, to hold someone or keep them from falling) and a canvas (strong cloth-like material) belt. After checking to be sure everything is ready, he steps out of a window high above New York's streets and attaches his belt to a pair of hooks (a piece of metal to hang things on) on the facade (face) of the apartment or office building. Standing with his toes on the window sill (piece of wood or stone at the bottom of a window), he begins to wash windows.
Sergio, Jaime, and Cruz follow a similar routine (something you do every time). At dawn (when the sky is light before the sun rises), they lug (carry a heavy object with difficulty) buckets, harnesses, extra-long ropes, and other tools from their truck to a service (for employees) elevator which takes them to the top of the building. When they get there, they attach their ropes to the building and drop them over the side. After strapping on their harnesses, which include a seat to sit on, they attach themselves to the ropes. They pause (stop briefly), pray (ask God) for safety, climb over the edge of the building, and rappel (go down the front of the building by sliding down a rope and touching the building with their feet) to the windows they need to clean.
Brent, Sergio, Jaime, and Cruz all do what we might call extreme work. In Podcast 209, Jeff talked about extreme sports – sport activities that have a high level of danger and often require special equipment. If you're not familiar with extreme sports, these great photos from National Geographic will quickly give you a feel for (understanding of) them. High-rise (tall buildings) window washing in New York certainly qualifies (can be thought of) as extreme work.
Brent, who's been washing windows for 30 years, says he does it because he enjoys the work. He was introduced to window washing as a child, when his family was living in Holland, and began to do the work when he was a student at Columbia University.
His tools are very simple. A porcupine washer. A squeegee (rubber-edged tool for removing water from windows). Drop-cloths (large cloths to protect floors). Towels. Buckets. Water. And Joy, a liquid dish-washing soap recommended by his grandmother. He and his 10 assistants – mostly from Ecuador and Guatemala – clean windows in about 10,000 buildings a year.
Sergio, Jaime, and Cruz – young men from Mexico – wash windows because it pays well, allows them to take care of their families in New York, and send money back to their families in Mexico when it's needed. One of them says, "I'm not rich, but I know that if my parents became ill, I could help them."
The three young men say that they have to be fast, clean, and careful to be successful. Their biggest concern is the wind. "Yes, I've thought that I could die because of the wind," one of them says. "Each morning we check the weather and decide if we'll work on the building or not." And each morning they pray, asking God that nothing will happen to them that day.
If you want to get a better feel for high-rise window washing, you can watch the short videos about Brent and Sergio, Jaime, and Cruz. I hope you're not afraid of heights (high places)!
~ Warren Ediger – English tutor/coach and creator of Successful English, where you can find clear explanations and practical suggestions for better English.
Photo courtesy of Wikipedia Commons.