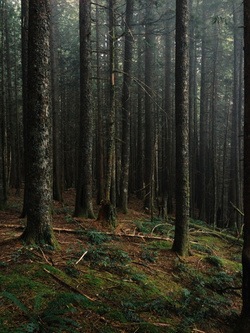 Kevin Russ is a modern nomad.
Nomads, who can be found in many countries, are people who do not have a permanent home, who move from one place to another. Some move so they can find food for themselves or their livestock (animals raised for food or to sell). Others travel from one job to another. In California, for example, itinerant (people who travel from place to place) farm workers move from one area to another to work in vineyards (where grapes are grown), orchards (where fruit and nuts are grown), and vegetable farms whenever they are needed.
Kevin Russ is a different kind of nomad. He is a nature photographer. Actually (truly; in fact), he is a nature iPhoneographer – all of his photography is done with the camera in his iPhone.
Russ picked up (learned and began to do) photography during his first year in college. He had never studied photography, but he quickly became a popular portrait (photos of people) photographer. The demand (the number of people wanted him to take their photos) for his work grew so much that photography became his full-time job.
After four years, Russ took a break (to stop doing something for a time) from portrait photography. A few months later, he made a decision that has changed his life. He decided to spend his time traveling from place to place across the western United States, photographing the landscapes (scenery) and wildlife (wild animals) that he encounters (sees or experiences without planning). And he decided to do it all with the camera in his iPhone.
"My daily schedule couldn't be any simpler," says Russ. "I look on a map for places I want to see and then drive there and take pictures." He usually begins early in the morning, when the sunlight is soft and warm and when more animals are out (able to be seen). As he moves from one place to another, Russ often lives in his car.
So far (to this time) he has visited all the western states and the national parks in each of them. He plans to travel across the rest of the United States and, hopefully, to move on to Central and South America.
So how does this modern nomad earn a living? By selling his photos on the Internet. You can buy them in many forms – as prints to hang on a wall, on iPhone and iPad covers, and on t-shirts, sweat shirts, and pillows. Russ sells enough of his photographs to pay his expenses and to continue what he loves most – enjoying nature and capturing its beauty with his iPhone.
How good is Kevin Russ? Those of us who have followed his work marvel (are amazed) at his ability to capture (record or express) the beauty of nature with his iPhone. The 65,000 people who follow him on Instagram (a social web site for photos) agree. Some have even called him the "Ansel Adams of the iPhone" (If you're not familiar with Adams, look at The Mountains' Spell, one of my early blog posts, and English Cafe #338).
You can decide for yourself how good Russ is by going to his Instagram page and looking at his photos. And you can hear him tell his own story in this short interview. I hope you do both.
~ Warren Ediger – English coach/tutor and creator of the Successful English web site.
Photo by K. Russ.